Home » Family
Gentle Parenting: Learning the Art of Acceptance … by Tami Wyness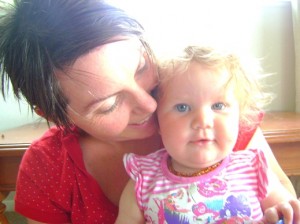 Learning the Art of Acceptance…
Parenting gently and keeping my baby close to me through the day and night feels so natural, but current mainstream Western culture doesn't always feel like a comfy sling that keeps it's parents and babies in close embrace.  The times that I find myself fragile and resistant to motherhood are often when the architecture of modern day life force separation and counter-intuition.
Schedules and car seats are sometimes harsh edges that can cut the cord.  There's nothing like trying to get an appointment on time with a crying baby in its car seat to fray my emotions and spike cortisol levels.  It's true.  Those times where I've resisted listening to my baby, resisted going with the flow, resisted the inner quiet wisdom of motherhood gently whispering the way… and put meetings, obligations and others as priority over how my baby and myself are feeling that day are the times I have felt the most distressed.  This is where learning to practice the art of acceptance has helped bring a bit of peace into my day.
The other night my baby girl woke up screaming, that inconsolable screaming that comes in waves and is only broken by the frantic intakes for breath … and nothing I could do soothed her.  But I held her as she cried.  She was loved.  And she was not alone crying in the night.    And the more I accepted the middle of the night with the crescent moon and the stars in the milky way … the easier it all became.  As resistance fell away, the connection to her, to myself, others and to the earth deepened.  I think we would all love to be held deep in the night.
It has been a windy road toward acceptance because I think it calls for a conscious act of letting go.  A letting go of the past and the way things 'should' be (according to some socialised or imagined ideal?).  In letting go, I find myself more present as a mother, and less exhausted from resistance.
Parenthood takes me in new directions and magical places I never even knew existed, or could exist. I learn (and re-learn) on a DAILY (sometimes, momentary) basis about love, patience and presence.  Through acceptance of what just 'is' I find new spaces open up that can then encourage growth and transformation, not just as a mother, but as a human being.
So now I try to allow for multiple stops on the side of the road on any journey in the car or ensure optimum timing!  I try curl up with my baby for morning and afternoon naps when I can and accept the new sleeping patterns of night and ignore the housework.  I try to keep my baby close when she doesn't want other's arms or to be put down and accept not being alone to go to the toilet.
I accept the slower days of baby-time and let go of the nights out.  I try accept the hours of feeding to sleep … and let go of all those other things I think I could be doing; because time for those things will come soon enough … and when that happens those things I thought were so important may have already shifted in line with my continuing transformation.
Of course, sometimes acceptance is really freaking hard …  but I think that is where creating a like-minded community becomes important.  So we can share in each other's resistance and know we're not alone. Sometimes I need to accept that I am resistant, but the intention is there to act with a gentle heart …  and to remember on those more difficult days that they are little for only a short time and; and to treasure each embrace.
Do you know what I mean?
GD Star Rating
loading...
GD Star Rating
loading...
Gentle Parenting: Learning the Art of Acceptance ... by Tami Wyness

,
Tags: gentle parenting