Home » Environment
Smart farming helps safeguard against drought
Submitted by Charlotte on April 18, 2013 – 2:33 pm
Media Release
18 April 2013
SMART FARMING HELPS SAFEGUARD AGAINST DROUGHT
The Carbon Farming Group has launched three videos online highlighting smart farming methods, designed to help farmers improve efficiency and productivity and better manage extreme weather conditions, such as drought.
"We produced the videos as an easy way for the rural community to learn firsthand from other farmers, how employing smart farming methods can help ensure sustainable farming, even during extreme weather conditions, such as the current drought" says Clayton Wallwork, Trustee – Carbon Farming Group.
In the first video, Fairlie dairy farmers, Sarah and John Wright introduced Variable Rate Irrigation to utilise their limited water supply more efficiently. The Wrights have radically reduced water wastage and estimate they've already seen a 30-40% return on their investment.
Golden Bay dairy farmers Mark and Laura Manson, explain in the second video how biological farming has helped solve their problem of poor pasture caused by extended  dry summer conditions. A change of grass species and efforts to improve the health of their soil has resulted in happier healthier stock. They are now producing the same amount of milk with 360 cows as they previously did with 490.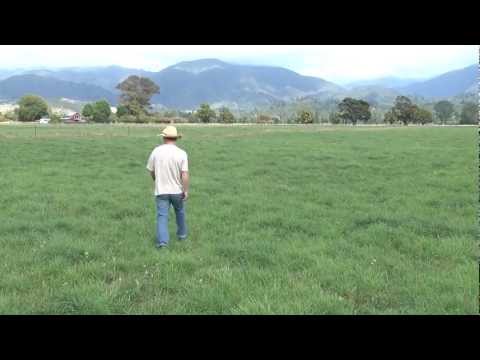 Biological farming is also the focus of the third video, with a visit to a large leasehold property on Motutapu Island in the Hauraki Gulf. The leaseholder, Rick Braddock introduced biological farming to the island six years ago and hasn't looked back.
"It made sense to treat the soil as a living system, rather than an inert substance that we put chemicals on to produce grass. We're seeing very positive results with our grass growth rate, soil moisture and the health of the animals" says Rick Braddock.
The videos were produced by the Carbon Farming Group with funding from The Tindall Foundation and can be accessed online at YouTube http://www.youtube.com/carbonfarmingnz
carbonfarmingnz
GD Star Rating
loading...
GD Star Rating
loading...
Tags: sustainable farming