Home » Club Happyzine
Review: Mmmm … meet the Snickerdoodle – gluten free, chocolate, vegan, and very organic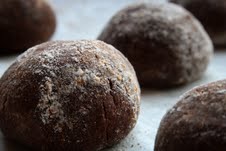 It's a cosy, inside winter's day, there's fresh snow on the hills and the fire's crackling.  I've returned home, mid-afternoon bearing sweet gifts for afternoon tea.  This is the new generation of afternoon tea.  I'm not talking a pack of old ginernuts here, nope, I've got a four pack of gluten-free Baron Hasselhooff's Mexican Chocolate Snickerdoodles in my hands.  These babies are bursting with great quality ingredients and they still taste nice and naughty.
Made with rice flour and other yummy organic ingredients, Mexican Snickerdoodles are a sweet, moist, almost fudgy, and very thick, chocolate cookie.  Upon first bite I can taste a touch of cinnamon in there, as well as some heat, which I soon learn is ginger and cayenne.  They're rich and dark with chocolate and they're surprisingly filling.
Chef Clayton Mcerlane, who is the Baron Hasselhoff, describes these as the "sweet treat for grown ups" and I can see why.  As well as being a rich dark, moist chocolate mouth experience, they pack a bit of heat and spice that takes them way beyond your average chocolate fudge cookie.  The dusting of icing sugar on top adds a nice sweet balance to the richness and subtle spice.
And, of course, they're irresistibly impossible to stop eating.  So I dare you to buy a four pack and stop at one!
Ingredients, all certified organic.
Rice flour,Golden sugar,Hazelnut Flour,Tapioca Flour, Sunflower Oil,Rice Milk,Cocoa Powder,Rice Syrup,Vanilla,
Baking Powder,Cinnamon,Icing Sugar,Ground Ginger,Cloves, Cayenne Pepper,Salt.
Baron Hasselhoffs gluten-free sweet treats are produced every Sunday in the famous Dangerous Kitchen cafe, Takaka.  This cafe itself favours locally sourced and organic ingredients.  Clayton, who has a natural preference for organic and free-range ingredients, produces a range of decadent sweet treats under his label and distributes them across the top of the South Island.  He's currently looking to expand his retail base through organic shops around Aotearoa, so get in touch if you'd like Baron Hasselhoff's in your local organic shop, or supermarket.
We are proud to be offering three, four packs of these gorgeous Snickerdoodles to three members of Club Happyzine.  Sign up today!  Even $1 per week would be awesome!
GD Star Rating
loading...
GD Star Rating
loading...
Review: Mmmm ... meet the Snickerdoodle - gluten free, chocolate, vegan, and very organic

,
Tags: club happyzine, organic, vegan