Home » Family
Gentle Parenting: Embracing Tantrums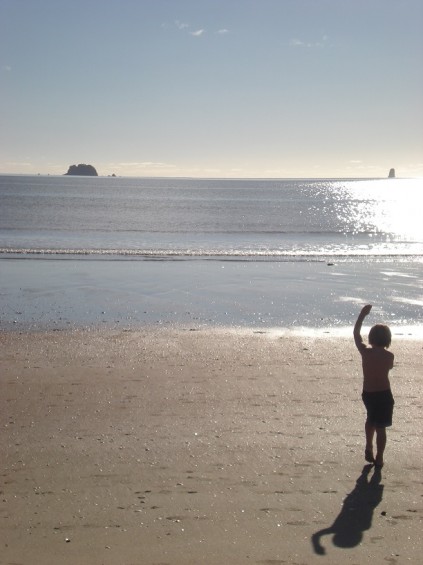 There are no naughty children here.
An acquaintance recently overheard me saying that we don't use the word naughty in our house. A few sentences on I divulged that we don't do any form of punishment or bribery either. Eyes bulging, she came over and entered the conversation asking, ' so…what DO you do when, you know…they're being … naughty?!' We all laughed. We've all been there. Attachment parent or whatever kind of parent you call yourself, we have all had our kids be rude or obstructive at times.
My response? I bring them close. I drop what I am doing if possible and scoop the 'offending' little monkey up and meet his or her eyes and connect with them.  It's hard sometimes. We've all been taught to push them away. Sometimes I need to let go of my anger to be able to do it. But it is so worth it.
Those big feelings will keep bubbling up until a good release happens and I'd rather support my child to have a good cry or help them get their anger out with a pillow battle at home than have it erupt in the supermarket. Pushing away, punishing, sending them to their rooms only creates distance and risks the child think that their big feelings are not okay. Once that anger or sadness or confusion is expressed…it might be a few minutes or hours for the more traumatic processing… the cloud passes, the child's face lights up. It has passed. You feel closer. Your child feels safe knowing she can trust you to love her no matter what she is going through. Oh yes, it is so worth it.
We all have times when we are out of balance and have big emotions bubble up. It can feel scary.  Our children need us there when things feel overwhelming.
They need to know that it is okay to feel angry, scared, or grumpy. We need to show them how to get those big feelings out without hurting others. That is the beauty of a tantrum. Yup! You heard me! Those big unreasonable outbursts when your child is upset about the wrong colour toothpaste or who got the biggest cookie? It's not really about the toothpaste or the cookie. Think of kids as pressure cookers, every now and then they need to let off a bit of steam. A release is needed for them to be able to move on.
I often marvel at how children are treated. If an adult friend was really upset, we wouldn't send them to their rooms or tell them to stop being silly.  There is an assumption that a punishment-free household is one where the kids run wild and there are no boundaries. I am sure there are households out there that fit that description. We are not one of them. Our family has very firm boundaries. I think they are necessary for healthy development, but there are no threats holding those boundaries, just a whole lotta love.
Anissa Ljanta
This week's gentle parenting blog has been written by an inspiring woman, Anissa Ljanta.  Anissa is a mama, writer, blogger, activist, craftswoman, dynamic workshop facilitator and traditional herbalist.  She ran an organic retreat and market garden in the French Pyrenean mountains and is passionate about connected parenting, natural foods, the GrowMama blog, living with integrity and finding magic in the mundane.  
GD Star Rating
loading...
GD Star Rating
loading...
Gentle Parenting: Embracing Tantrums

,
Tags: gentle parenting