Home » Music
The Wellington International Ukulele Orchestra Edinburgh Fringe Fundraiser Show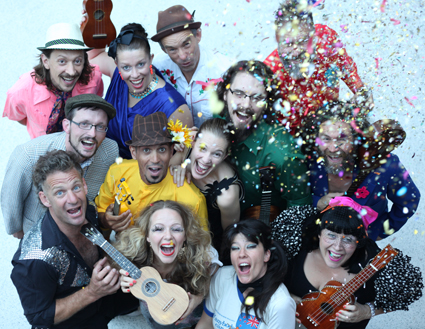 Media Release – June 2013
Enhancing the Halo presents The Wellington International Ukulele Orchestra in a multi-celebratory mid-winter fundraiser show at the Wellington Town Hall, 7.30pm, Thursday 25.  Wellington's beloved ukulele vagabonds are hammering the "international" into Wellington International Ukulele Orchestra with a month-long debut at the Edinburgh Festival Fringe this August, in a prized 6pm slot at the prestigious Gilded Balloon Debating Hall, and this special WellingtonTown Hall show marks the beginning of what will surely be an auspicious adventure.
It's no small feat to get a dozen Wellingtonians to Scotland (and back!), but that's what fundraisers are for! The night will also be a celebration of Wellington's native bird population, the Wellington Town Hall (which is closing for earthquake strengthening), and most importantly the fact that Scotland's national animal is the unicorn!
There'll be music, at least one very interesting story about the town hall, some kind of raffle, an impression of unicorns, the aura of Alexander Graham Bell and other Scottish ghosts, and of course the usual heavenly harmonies, scorching uke solos and madcap banter from your local music-comedy heroes.
Because Wellingtonians deserve a good party halfway through a Wellington winter, tickets are at the incredibly cheap price of $20 for children 12 and under, and $35 for everyone else (plus booking fees). Residents of Scottish-sounding suburbs Kelburn,
Kilbirnie and Seatoun are especially welcome as honoured guests, and there will be spot prizes for the most excitingly dressed guest and the best kilt and sporran.
The earlier you book, the better your seats, so book now to come and party with the Wellington International Ukulele Orchestra and support their trip to the Dunedin of the North!
PS Ukulele players are encouraged to bring their instruments for a mass Proclaimers singalong! (All the chords you need are C, F and G.)
The Wellington International Ukulele Orchestra at the Wellington Town Hall
Thursday 25
Kids 12 and under $20. Everyone else $35.
Book now: www.ticketek.co.nz or 0800 TICKETEK. More info: www.ukulele.co.nz
With thanks to Enhancing the Halo, Positively Wellington Venues, and Ticketek.
Bookings: 0800 TICKETEK or www.ticketek.co.nz
GD Star Rating
loading...
GD Star Rating
loading...
Tags: Edinburgh Fringe Festival, The Wellington International Ukulele Orchestra