Home » Family
Gentle Parenting: The Mexican blanket of love and listening
Submitted by on August 1, 2013 – 6:08 pm
2 Comments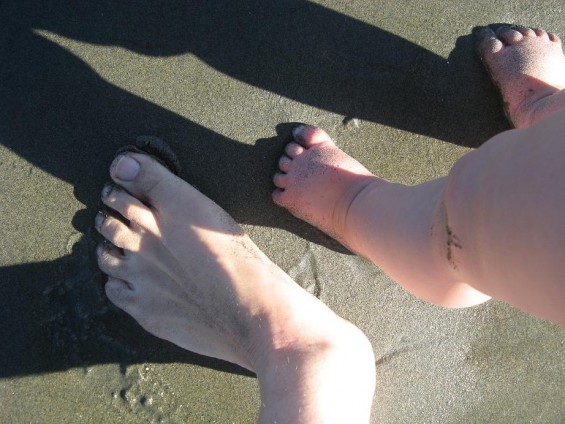 My baby stirs beside me in the pre-dawn darkness.  I hear the first calls of the morning birds outside and the sky begins to lighten ever so gently as we spin toward the sun.  I hear her sigh and stretch as she reaches out for me and finds me, her impossibly soft little hand touching the contours of my face; she snuggles closer.  "Good morning" I say, "good morning" my 15 month old whispers back.  Love wraps me up like a woollen Mexican blanket, warm and colourful.  I am blessed to share these intimate moments with her.  She then whacks me on the face and tells me she needs to pee; fumbling for the light we begin our morning routine.
Sometimes it feels like a challenge to have her next to me all night, but I wouldn't want it any other way.  When we first met last year, it felt so natural to have her close; and it still feels that way.  I'm so happy that I have continued to do what feels right for me.  It's an interesting path, this parenthood journey… full of opinion, ideas, cultural norms and state intervention.  Looking back over the past couple of years since I conceived, I see points in the road where I would have done things differently: most of these involve stopping to listen to that quiet, but steady voice of intuition.  If I could sit down with my pre-pregnant and parent self, the first thing I would say is:
Take moments to be silent; so you can hear your intuition speak.  And listen to it carefully.
The moments in my journey that have created the most frustration are those that have butted heads with my inner voice.  Although, I recognise, the art of intuition is close to extinction in this age of information saturation: how do you tell the difference between what you know in your heart, and what you may have taken on as a belief?  That's a toughie.  I know for myself, I haven't always got it right.  In fact, I've got it really, really wrong at times.   And that's OK.
Listening to others, I feel, is still vitally important together with building and trusting the community and support networks around us.  The world is a complex place and some people know things that we just don't; but I believe our intuition is still a wise guide.  I believe it's so important that we connect in before making decisions regarding our selves and our babies.  Take nothing for granted, gather information, become informed beings and then run it all past our inner wisdom.
For me, intuition isn't necessarily logical or rational.  It doesn't have a particular philosophy or value system; there is no formula or set of instructions.  I can't put my finger on it; it's neither thought nor idea; and it's not even a feeling that can be named.  But it's something so deep and so knowing that it's surprising at how quiet it seems in the haste of life.  Perhaps it's something that grows within us as we grow, connected in the womb of our mother.
As the night draws in and the stars twinkle against the black velvet sky, I again snuggle in to the sleeping baby at my breast.  I no longer give myself a hard time about the do's and don'ts 'rights' and 'wrongs'; because I am clear in myself about why I'm doing what I'm doing – and I'm OK with it.  Within that, there is also an acceptance of flexibility… at some point my intuition will tell me something needs to change.  Whatever way we chose to parent, I believe that's what is important – honouring and listening carefully to ourselves and doing what feels right to us.  It certainly makes me feel happy to snuggle in to my hearts desire; like wrapping myself up in that woollen Mexican blanket of love.
GD Star Rating
loading...
GD Star Rating
loading...
Gentle Parenting: The Mexican blanket of love and listening

,
Tags: gentle parenting