Home » Elder
Nanas On The Prowl
Submitted by Charlotte on August 6, 2013 – 1:09 pm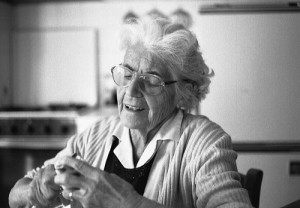 Kristina Jensen
This has simply got to be one of the best feel-good stories ever. Nine women in Tennessee, calling themselves the Nine Nanas, have been prowling about in secret for the last 30 years 'doing good'. And they say it all started 'just for the hell of it'.
In the early days, they'd cruise the city behind their husbands' backs looking for those in need. For example, strangers who've had their power turned off (by peeking surreptitiously in the windows, believe it or not, looking for candle light or dim lamp light), or comb the papers to find out who has just had a death in the family in a poorer part of town.
Then they'd sneak by these people's homes in the wee hours of the morning and drop off envelopes of cash and a freshly baked cake. Over the decades they've dispensed nearly a million dollars this way.
The scheme is now no longer a secret. One husband suspected something when the fuel bill suddenly looked a bit high for a bit too long. Instead of putting a stop to their wives acts of charity, they have wholeheartedly joined in.
Read more here: http://www.huffingtonpost.com/2012/06/20/it-aint-over-thebusiness-secret_n_1607385.html
And check out their site – www.HappinessHappens.com
GD Star Rating
loading...
GD Star Rating
loading...
Tags: elder