Home » Club Happyzine
How's your eye health? Join Club Happyzine and win Blackmores Lutein-Vision capsules
Submitted by Charlotte on August 7, 2013 – 1:37 pm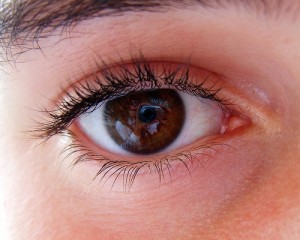 If you're struggling to read the fine print, you'll already understand how eyesight changes with ageing.  New research shows you can do your bit for healthy eyesight by getting enough of the right nutrients.
Lutein and zeaxanthin are of particular importance.  They are carotenoids found naturally in the human eye and we consume them in our diets in leafy green and yellow vegetables and in foods such as eggs.   Research shows you need a high intake of these foods for healthy eyesight.  You can't always manage it through diet alone.  Lutein and zeaxanthin are the key ingredients in Blackmores Lutein-Vision Advanced™.
Blackmores Lutein-Vision Advanced™ is a research-based formula, based on the Age Related Eye Disease Study II (AREDS II)*.  This study found lutein and zeaxanthin are supportive of healthy eyes and our ability to see clearly in ageing.  Those whose diets are low in vegetables may benefit the most from supplemental intake.
In our eyes, the highest concentration of lutein and zeaxanthin is found in what's known as the macula – an area of retinal tissue at the back of the eye,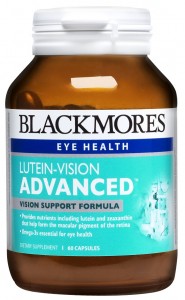 responsible for clear central vision.  Our ability to recognise faces, read, drive and see colour and contrast depends on a healthy macula.
Lutein and zeaxanthin work by supporting the macula's natural layer of yellow pigment (macular pigment).  This pigment serves as an effective natural filter of the most damaging light (near-to-UV blue light).  A dense macular pigment is more protective than one of low density.
In addition to lutein and zeaxanthin,  Blackmores Lutein-Vision Advanced™ contains Omega-3 fatty acids and selenium.
Selenium plays an important antioxidant role in eye health.  Due to low selenium content in New Zealand soil, our dietary intake of selenium is low.
Collective studies have highlighted the potential benefits from dietary omega-3 fatty acids, or regular consumption of oily fish, for eye health.  Research shows four fish meals a week may be needed to support the macula.
An earlier Age Related Eye Disease Study (AREDS I)** identified other specific nutrients that are supportive of a healthy macula in addition to lutein and zeaxanthin; these included zinc, Vitamin C, Vitamin E and copper.  These nutrients are also difficult to obtain through diet alone.  They are in Blackmores Macu-Vision®.
BLACKMORES LIFESTYLE SUGGESTIONS FOR HEALTHY EYES;
• Don't smoke and limit your alcohol intake
• Keep a healthy weight by eating a diet low in saturated fats
• Eat fish two/three times a week, plus fruit and at least two serves of dark green leafy vegetables every day!
• Exercise regularly and limit stress to maintain normal blood pressure
• Protect your eyes from the sun with UV blocking sunglasses
• Have regular eye tests, including a macula check.
BLACKMORES LUTEIN-VISION ADVANCED: RRP: $44.95 (60 capsules)
BLACKMORES MACU-VISION; RRP $41.25 (90 capsules)
Always read the label and use as directed. Supplementary to a balanced diet.
*AREDS 2 is an Age-Related Eye Disease Study that began in 2006, results of which were released in May 2013.
** The Age Related Eye Disease Study (AREDS) was a long term randomised clinical trial that evaluated the effects of antioxidants and zinc on macular health in 3,609 people between 55-80 years of age that was conducted by the National Eye Institute (NEI) in the US and published in 2001 in the Archives of Ophthalmology (Oct. 2011).
STOCKIST DETAILS: Blackmores products are available from all leading Pharmacy, Health Food Stores and Supermarkets nationwide. For more information or to speak to a qualified Naturopath call Blackmores free Advisory Service on 0508 75 74 73 or visit www.blackmoresnz.co.nz.
GD Star Rating
a WordPress rating system
GD Star Rating
a WordPress rating system
Tags: club happyzine, eye