Home » Youth
Wanted: Young people practicing 'good deeds' in Auckland
Submitted by Charlotte on August 30, 2013 – 9:05 am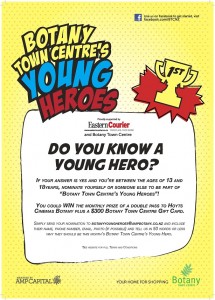 You don't need to wear a cape to be considered someone's hero. Heroic or successful people come in all forms and with a variety of academic, physical or philanthropic attributes – and many young people are making their mark as successful entrepreneurs or ethics-minded citizens.
The Eastern Courier and Botany Town Centre are inviting the community to share stories of young people who have turned their aspirations into reality, whether they've hit on a new trend or product or touched someone's life through their selflessness and generosity. Perhaps they've helped classmates with homework, read to younger children or volunteered time at a charity or local retirement home.
Botany Town Centre Senior Marketing Manager Desiree Clark says, "As a community hub, Botany Town Centre plays an integral part in the lives of local youth, who in many cases live and go to school near the centre, spend time here with friends and family, or even take up their first employment at one of our many retailers.
"This initiative seeks to recognize and reward local young people who are doing exceptional things in the hopes of inspiring the next generation and others in our community. We want to hear about all the great things our region's youth are doing, and share their stories to celebrate them and show what they've achieved through their energy and courage."
Eastern Courier and Botany Town Centre are calling on nominations from all parents, teachers, caregivers and anyone else who knows of a person between the ages of 13 to 18 who deserves recognition for their accomplishments and good deeds. Botany Town Centre's Young Heroes is a monthly series of shout-outs for inspiring local youth.
Nominations are open now and can be submitted to botanyyoungheroes@ampbotany.co.nz. Nominations must include the nominee's full name, the nominator and nominees contact details, a 50-word blurb explaining why they should be rewarded and a photo if possible.
Public voting on the nominees will be open each month on Botany Town Centre's Facebook page. Each month's hero will receive a $300 Botany Town Centre gift card and a double movies pass for Hoyts Botany Town Centre.
For full terms and conditions, visit www.botanytowncentre.co.nz
GD Star Rating
loading...
GD Star Rating
loading...