Home » Elder
Gardening with Soul features 92 year old Wellington 'gardening nun' with can-do attitude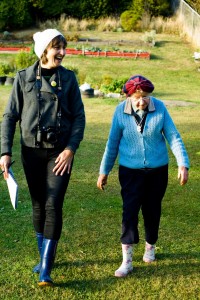 Spring celebration of new life in gardens and on the big screen
Note: Auckland members of Club Happyzine go in the draw to win a double pass to this epic Kiwi movie!
PRESS RELEASE
Sell-out sessions, standing ovations and rave reviews have made a local film about a lively 92-year-old woman, the surprise hit of this years NZ International Film Festival.
Gardening with Soul will now be winding its way around the country from Kerikeri to Dunedin with a nationwide release of the feature-length documentary about Sister Loyola Galvin from Thursday 12 September at selected cinemas.
The story, which follows a year in the life and garden of Sister Loyola, the 'gardening nun' who won NZ Gardener of the Year in 2008, is full of such wisdom, humour and plucky sense of can-do-Kiwi attitude, director Jess Feast is not completely surprised the character has resonated so strongly with many people.
"I first heard Sister Loyola on Kim Hill's Radio New Zealand show and there was something which stood out about her philosophies and take on life so I went up the road in Island Bay to the Home of Compassion and introduced myself. I was met by a tiny, but very funny woman, and a bond was formed. It wasn't my original intent to make a documentary but I was driven by a mission to bottle this woman's wisdom and spread it around."
The film was made over a full year during which Feast wrangled one baby and became pregnant with another. For Sister Loyola this was one of the highlights of the documentary process, "It was fantastic that these women (Producer Vicky Pope also had a baby during the filming period), would bring their babies up to me at the Home of Compassion and we've been able to share in their lives. It's been great fun, although I do think the film has rather a lot of me in it," she laughs.
While some may think the documentary is a religious one, the film weaves around themes of faith, aging and compassion as well as the practicalities of community life, sustainable living, recycling and reuse, poverty and family values as well as issues within the Catholic Church, in an intimate and moving portrait of a woman approaching the end of her life.
Editor Annie Collins agreed to be part of the project as she felt Pakeha culture was not telling the stories of the elderly well or often enough. "Maori culture is quite skilled and adept at this, you see many fantastic documentaries on Maori Television and I think it's exceptionally important for us to be celebrating the wisdom of our older people."
Producer Vicky Pope said the feedback has been overwhelming. "We knew we were onto a great story and many have said to me – 'finally a kiwi film I can take my grandmother or mum to', but more than that, I've had 20 year-old men in Dunedin  raving to me about how much they enjoyed the film. This is the kind of kiwi story we firmly believe all New Zealanders should see."
"For me personally one of the most interesting aspects of the film (and I'm no gardener) is the insight into the life and what it means to be a nun. This film is a time capsule into the lives of some incredible women in the service of compassion. Jess and I are not religious people so it's amazing to be able to capture these daily realities and change the misconceptions. We have been very humbled by this filmmaking process."
As Feast says, "Sister Loyola has touched so many people's lives, from the orphans she has raised, the hospital care she carried out in the Hutt Valley, to the community gardeners in Island Bay. She lives and breathes the true meaning of compassion and I invite everyone to celebrate the wisdom of an amazingly unique character."
www.facebook.com/gardeningwithsoul
Official trailor here.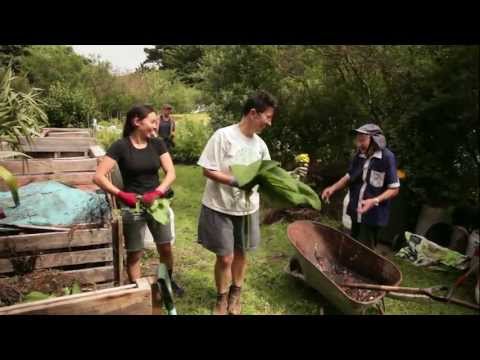 Check Eventfinder.co.nz for local listing information.
Release dates and locations:
Kerikieri Cathay Cinema
Matakana  Matakana Cinema
Waiheke Waiheke Community Cinema (from 19 September)
Auckland Bridgeway
Rialto Newmarket
Monterey
Hamilton  Lido
Tauranga  Rialto (from 10 October)
Wanganui  Embassy 3
Havelock North  Cinema Gold (TBC)
Palmerston North  Cinema Gold
Waikanae Shoreline
Paraparaumu  Cinema Gold
Pauatahanui  Lighthouse
Petone Lighthouse
Wellington Paramount
Nelson  State/Suter Cinema (from 19 September)
Christchurch Alice Cinematheque (from 10 October)
Arrowtown Dorothy Browns
Dunedin Rialto
Penthouse
*Special Event – Thursday 12 September
Rialto Cinema, Newmarket, Auckland –6pm
$16.50
Join Director Jess Feast, Producer Vicky Pope and Editor Annie Collins in conversation as part of the Film Talk at Rialto Cinemas series. A public event and a place for film makers and film fans to meet, the team will be discussing the moot point that documentary film making actually happens in the edit suite (rather than in the field).
Each event is moderated by an appointed chair from the Screen Directors Guild of New Zealand and as a result the sessions are expertly handled and uncover the most interesting aspects of film making, directing, producing and story-telling.
Quotes:
"What a fabulous film…I've never seen anything so warmhearted or inspiring in my life; I absolutely loved it!"
"A beautiful life, honestly portrayed…You will not have a better time at the cinema this year."
GRAEME TUCKETT-NATIONAL RADIO
"…should you find yourself wanting your faith in humanity buoyed up a little, may I direct you to 'Gardening with Soul', a lovely, gentle study of a year in the life of Sister Loyola…. You will not encounter a more energetic person on film this year: a generational icon of pragmatic, cheerful, can-do Kiwi virtues."
DAVID LARSEN-THE LISTENER
"…. this quietly moving spiritual reflection on a life is beautifully shot, socially fascinating and completely charming"
DARREN BEVAN-TVNZ ONLINE
"No matter what or how you conceive of God or the power of nature, this film is a call to open your awareness of the power of compassion in sustaining a positive outlook in all stages of life and especially in those final twilight years.  Take your elderly neighbours, get a group from your street to go and be
warned, it may be life changing"
ANNE-MARIE COURY-PRESIDENT GREY POWER AUCKLAND
For more information contact: Anna Dean 021 152 7232
hello@annadean.co.nz
GD Star Rating
loading...
GD Star Rating
loading...
Gardening with Soul features 92 year old Wellington 'gardening nun' with can-do attitude

,
Tags: elder