Home » Music
Maori peacemaker travels New Zealand
Submitted by Charlotte on September 11, 2013 – 5:16 pm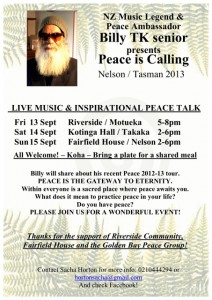 This is an open invitation from Billy TK senior to the Nelson/ Tasman people to attend one of his 3 Peace Talks in the area in September 2013.
Billy was nominated by the Eastern tribes as a member of the 'Kohuiarau Maori Parliament' about 10 years ago and later he was appointed by the Northern chiefs as their Peace ambassador and United Nations representative. Billy combines his music and inner peace practice in his Peace Talk events.
'I have been touring internationally and recently in New Zealand, playing my music and speaking about peace. It's been amazing; all ages have been attending from the very young to the elderly. Peace is for all, regardless of age, gender, culture or religion.'
When he was in Amsterdam, Billy was asked to speak at a conference of a Dutch political party. This party has 12-15,000 members, they polled more than 25,000 votes at the last election, He wondered why he got the invitation, however he rolled up to their party headquarters and was pleasantly surprised by the warm welcome and the amount of people in attendance. Billy recalls: 'In the welcoming address the chairwoman stressed the commitment of their party to build the foundation on peace.
She stated that by doing this, she felt that the party would be in step for the coming age and be able to serve the people in the best possible way. How wonderful that you have the foresight to include peace in your manifesto, I commented, maybe our political parties back home could take the hint and follow suit!'
'True peace cannot begin to happen on a worldwide scale unless each person realizes that it begins with them as individuals first. It is a feeling that comes from within not from outside. Shift your focus to the silence inside you and that's where it is.'
Billy recently spoke at Blackball and Granity primary schools. He explains: 'I found myself speaking to young kids in a very simple way that they could understand. I explained that when you have peaceful and happy mums and dads at home, you come to school happy and ready to learn. And when you get to school – now this part would cause the teachers to look at me sideways – and you have peaceful happy teachers, only then you have the basis for something wonderful to happen in the classroom. This way not only the students but also the parents and teachers have to shoulder some of the
responsibility. It is great that the head teachers of those schools took it upon themselves to invite me. I can prod and remind, that what you are looking for you already have within.'
If you want to be present at a Peace Talk by Billy TK senior, please bring a plate, bring your open heart and willingness to find your own peaceful place within. Entry by koha.
Peace is the gateway to eternity.
For more info, contact Sacha Horton – 0210444294
hortonsacha@gmail.com
GD Star Rating
loading...
GD Star Rating
loading...
Tags: peace