Home » Green technology
Greener streets without the red tape in Sydney
Submitted by Charlotte on September 12, 2013 – 8:35 am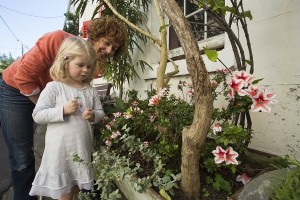 The City of Sydney has pruned red tape, paving the way for more inner-city gardeners to green their streets.
Under the City's new Footpath Gardening Policy, residents can plant footpath gardens outside their homes as well as apply for a grant towards the cost of a planter box."Anyone who knows inner-city Sydney is already familiar with the many streets with neighbourhood gardens on footpaths and nature strips," Lord Mayor Clover Moore said."We want to make it easier for more people to work with their neighbours and get planting. These gardens reduce storm water run-off –improve the look of our streets and make them more liveable."
Darlinghurst resident Annabel Butler is planning to establish her own green patch under the scheme to encourage a sense of community in her neighbourhood, just like her brother's at McElhone Place in Surry Hills.
That former drab street has become a landmark for walkers and inspirational for green thumbs keen to brighten up their streetscape.
"It's very civic minded, this street. I would love ours to become just the same," she said. Visiting with her three-year-old daughter Amelie, Mrs Butler said she sees walkers admiring the long rows of planter boxes that were established in the late 1970s using laundry tubs discarded by renovators.
"As people come through, they always stop and say 'Isn't this an amazing street?'"
Residents wanting to plant a footpath garden need to fill out a simple online checklist and self-assessment to make sure they do so responsibly without creating safety hazards or issues for people with disabilities, over 55s, or parents pushing prams.
Would-be gardeners should:
Use the "Dial Before You Dig" service to avoid disturbing underground pipes and cables;
Avoid spiky vegetation, protruding stems and use of stakes and guide wires;
Avoid tall vegetation that blocks sightlines; and
Ensure pedestrian access.
Residents will be responsible for the maintenance of their own footpath garden, with City staff available to offer advice. The policy also offers advice about safe and practical watering, appropriate clothing and safety.
To kick-start the scheme and encourage more street gardens, the City will subsidise, for a limited time, the cost of planter boxes.
The City will also provide public liability insurance for planters and gardens that comply with the Footpath Gardening Policy and extend its insurance cover to residents and community groups for any community gardening activities in these spaces.
For more information visit: cityofsydney.nsw.gov.au/community/participation
For more information contact: City of Sydney Media Adviser Catharine Munro. Phone 02 9265 9102 or email cmunro@cityofsydney.nsw.gov.au
For interviews with Lord Mayor Clover Moore, contact: Jonathon Larkin at 0477 310 149 or jlarkin@cityofsydney.nsw.gov.au
GD Star Rating
loading...
GD Star Rating
loading...
Tags: Gardening, green design