Home » Arts
Auckland artist's hand painted trees on High Street will change with the seasons
Submitted by Charlotte on September 18, 2013 – 9:12 am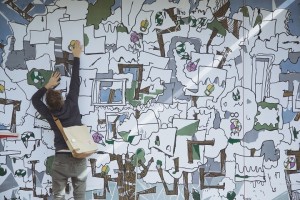 Spring blossoms will be arriving in Auckland's High Street this week as part of a hand-painted artwork to celebrate and harness the exciting changes happening to the site where one of Auckland's most iconic nightspots once stood.
The new artwork is being put together by the highly acclaimed New Zealand artist, Martin Poppelwell who has chosen to  it  use distinctive images of trees  that will have the ability to continuously change throughout the year with the seasons.
The changing artwork will allow him to add elements such as blossoms, fruits, bird nests and leaves to reflect and communicate messages of change, growth and blossoming of a new and upcoming era for High Street.
The building at 33 High Street is currently a demolition site, but originally housed legendary bars that defined the rich history of the street's nightlife throughout the 80s and 90s. The Box and Cause Celebre hosted numerous musical luminaries including one of the greatest guitarists of all time, Eric
Clapton.
The installation of the artwork commenced on August 22 2013 and will start with a spring theme decorated with beautiful hand-painted blossoms to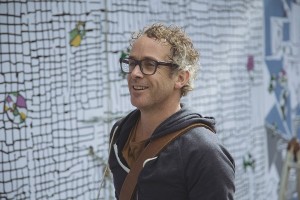 announce the arrival of a new season and celebrate the unique atmosphere and streetscape of High Street.
Martin has created an imaginative new take on his previous works with trees, a fascination that developed when he began to see them as more than just public sculptures.
"Trees struck me to be more interesting than a commissioned sculpture in the way they responded to the environment. They have qualities that invite interaction on such a base level… lean, shade, shield, define, fence to mention a few," reflects Martin on his inspiration for the artwork.
It is uncertain how long the temporary artwork will be in place. The public are encouraged to interact and engage with the artwork during its seasonal transformation. Be sure to catch 33 High Street's tree art while spring is in bloom!
For further information on all the events, go to biglittlecity.co.nz
Issued for Heart of Auckland City by FUSE PR
For more information please contact:
Jessica Walsh at Fuse on 09 353 8340 jessica.walsh@fuseint.com or
Stephanie Munro at on 09 352 3041 stephanie.munro@fuseint.com
GD Star Rating
loading...
GD Star Rating
loading...