Home » Food
The Dumpling Sisters need your support in Jamie Oliver Contest!
Submitted by Charlotte on September 22, 2013 – 4:30 pm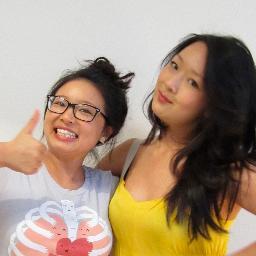 Hiya, We're Amy and Julie Zhang, Chiwi (Chinese-Kiwi) sisters who are currently based in London.
Earlier this year we started an online food project called 'The Dumpling Sisters' (TDS). Consisting of a
YouTube channel
and a
website
, TDS is all about good food, good times, and sharing the deliciousness!
We recently entered a worldwide competition run by Jamie Oliver to find a 'Food Tube Star' on YouTube. We worked really hard on our video recipe and we found out last Sunday that we made it into the 
final 5
 (out of 250+ entries!). We were really excited to hear the news, but we've realised now that the competition is super fierce.
We've been so blown away by the amount of support we've had so far. It has been incredible to hear from people from all over the world. The most rewarding thing is when people tell us they've actually made our recipe for iceberg parcels with fried rice, boozy hoisin chicken, and no-cook satay sauce. For us, this the reason why we love doing TDS.
Connecting with others through food is a real joy, and we will continue our food journey whatever the outcome of the competition. Having said that, we would *love* to win, as the winners will receive some great video equipment, mentoring from the Food Tube team, and be featured on the
Food Tube Channel
 for a year.
The winner will be decided by the video that gets the most 'likes' on YouTube by September 22nd, so having public support behind us is vital. If you'd like to check out our entry you can do so here:
If you like what we've done, please help us out by clicking 'like' underneath the video, and sharing with your friends and family 🙂
Cheers for your support!
The Dumpling Sisters
GD Star Rating
loading...
GD Star Rating
loading...
Tags: Food