Home » Environment
Three inspirational Kiwi schools win funds to further their green projects
Submitted by Charlotte on September 25, 2013 – 8:56 am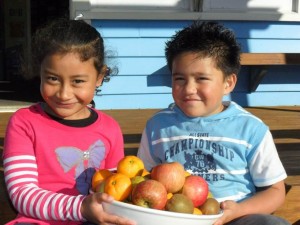 Three inspiring schools and kindergartens were today announced winners of the 2013 Mother Earth Reward competition.
Naenae Primary School (Lower Hutt), Nelson South Kindergarten (Nelson) and Westport North School (Westport) each took away $2,500 cash to help further their great work.
Mother Earth are proud sponsors of the Enviroschools Foundation, and as part of the sponsorship, the Mother Earth Reward was created in 2011. The Mother Earth Reward is an opportunity for New Zealand schools and Early Childhood Education Centres who are part of the Enviroschools programme to showcase their projects that promote wholesome food and healthy eating. The three most inspirational projects win cash prizes to put towards furthering their project.
The winning schools were hand-picked by an expert panel of judges led by Niki Bezzant, editor of Healthy Food Guide magazine. Niki was joined by Helen Jackson from Foodlovers.co.nz, and landscape designer Tony Murrell, who co-hosts Radio Live's Home & Garden Show.
Lees Street Kindergarten (Invercargill) took out the Most Promising Entry Award and won $1,500 to put towards taking their project to the next level over the coming year. It is the first year this award has been up for grabs and in addition to the prize money, the kindergarten will also receive a special visit from both Helen Jackson and Tony Murrell who will work with them to develop their project further.
Wairakei Primary School scooped $500 in prize money as the 2013 People's Choice Award winner, as voted for by the public over the past two weeks. The school is working towards utilising their decommissioned school swimming pool to set up a fully functioning aquaponics system.
Judge Niki Bezzant said each of the winning schools were successful in closing the gap between growing food and promoting healthy eating.
"These winning entries were so much more than just a garden – the schools each had a strong focus and strategy, and a defined goal they were working towards," said Bezzant. "I could see all of the winners making a real contribution towards the long-term health of the kids, as well as the good of their communities."
Mother Earth Marketing Project Manager, Caroline Potter, said the winning schools showed a special level of passion and commitment that made them stand out from the pack.
"Our winners provided a clear vision of promoting healthy eating and creating a sustainable resource for communities to benefit from for years to come," she says. "We are so delighted to reward them for the effort they've put in and know the money they've received will help each winner forge forward with their environmental and healthy eating goals."
The 2013 winners were selected from the following nine finalists:
·         Frankleigh Park Kindergarten (New Plymouth)
·         Hukanui Primary School (Hamilton)
·         Katikati Kindergarten (Katikati)
·         Lees Street Kindergarten (Invercargill)
·         Naenae Primary School (Lower Hutt)
·         Nelson South Kindergarten (Nelson)
·         Te Puna Kindergarten (Tauranga)
·         Wairakei Primary School (Taupo)
·         Westport North School (Westport)
For more information visit www.motherearthreward.co.nz
GD Star Rating
loading...
GD Star Rating
loading...
Tags: green design