Home » Business
Kiwi businesses walk their sustainable talk
Submitted by Charlotte on September 27, 2013 – 9:16 am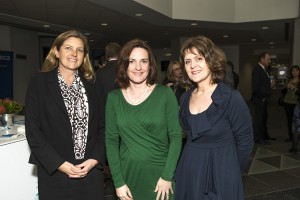 26 September 2013 – Fairfax Media
New Zealand businesses serious about sustainability
New Zealand's business community gathered last night to celebrate winners in the Fairfax Sustainable 60 awards, announced at an event hosted at Beca, Auckland.
The Sustainable 60 award-series, presented by Fairfax Media and partners Sustainable Business Council and Business New Zealand, recognises local businesses that are striving for long-term success by applying sustainable practice.
The awards, sponsored by Ricoh, Deloitte, NZTE, Sustainable Edge, BECA and EECA, were judged in five key categories – strategy and governance, workplace, marketplace, environment & community, and overall sustainability for small, medium and large-scale businesses.
"The breadth of this year's entries shows sustainability is increasingly a core part of New Zealand business," says Maria Slade, editor for Unlimited magazine. "It's thrilling to see the awards go from strength to strength each year and I know many more businesses will benefit from hearing this year's winners tell their stories during the workshops scheduled for early 2014."
World Moving & Storage came out tops in the Workplace category because of its unique "upside down company structure". The company's business initiatives see front-line staff at the top and directors at the bottom, proving to be a winning strategy with results showing a 11% improvement in productivity.
Taking home two wins for Overall Large Business and Community and runner up in as many categories, New Zealand Post Group has reduced its carbon footprint by 16% (13,820 tonnes) and courier and rural post fleets fuel-use by 35%. The organisation has also recently started a long-term shared value partnership with the social enterprise incubator Hikurangi Foundation, a charitable trust focused on low carbon social innovation.
Wellington Zoo demonstrated commitment to sustainability through a number of marketplace initiatives that aim to connect people with nature in an increasingly urbanised environment, earning it the Marketplace award.
Other wins included specialists in storm water management, Stormwater360, picking up the award for Overall Small Business.
But it was front-runner Soar Printing with its "greener printing" approach that dominated on the night. At the forefront of the New Zealand printing industry, Soar has been operating as a sustainable business for the past three generations and took home the prize for Strategy & Governance. The printing organisation was also runner up for Marketplace, winner for Overall Medium Business and winner in the Environment category for its
range of environmental initiatives that seek to reduce environmental impact and costs. It was no surprise Soar Printing was named Supreme winner this year.
"We extend our congratulations to all the winners and finalists, both for sharing their stories with us, and most importantly, for their ongoing commitment to sustainable business practice."
Winners will be invited to speak at the workshops in Auckland and Wellington in April next year. For more information on finalists and winners, visit www.sustainable60.co.nz.
GD Star Rating
loading...
GD Star Rating
loading...
Tags: green