Home » Community, Featured
Strengthening community: Wellington's Timebank turns two
Submitted by Charlotte on November 12, 2013 – 4:01 pm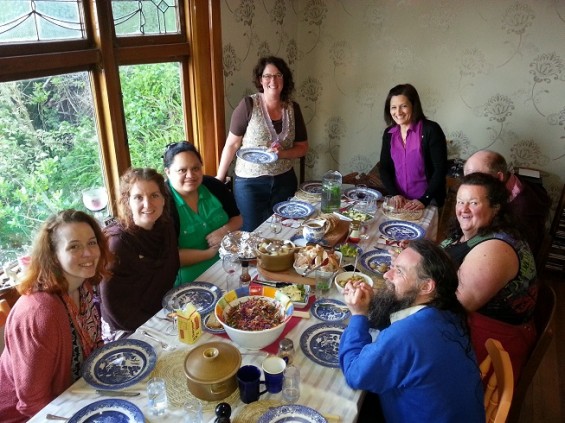 It takes two + : Wellington Timebank
At the end of October 2013, the Wellington Timebank turned two. That's two years of connection, learning new skills and sharing talents within and between Wellington communities. In fact, the Wellington Timebank currently has over 340 member across 32 suburbs, with over 1,570 trades and 3,330 hours exchanged (!)
Even looking at the last few weeks, the mind boggles at the amazing range. A taste of October 2013 could include:
Homemade muesli

Swimming lessons

Helping build a chicken coop shelter

Computer/technology help

Advice on finding good vegetarian recipes

Tomato seedlings

Chakra balancing

ESOL lessons

Life coaching

Companionship

Prepping and building a raised bed
And that's just the start of an all-you-can-eat menu. Whew!
Our people
The Wellington Timebank's success can easily be attributed to… the people. He tangata, he tangata.Coordinator Hannah Mackintosh, a strong Steering Committee, Neighbourhood Hub Curators, volunteers, generous funders and the Timebank members themselves have all contributed to creating a vibrant, caring community that looks out for each other and embraces diversity.
In two years the Wellington Timebank itself has been supported by more than 3,300 hours of volunteering.
Our story
It started with a workshop.  In February 2011, the Newtown Community Centre hosted a Timebanking workshop run by Anneleise Hall from the Lyttleton Timebank.  The excitement of the attendees lead to a decision: to set up a local Timebank in Wellington South.
In October 2011 the Wellington South Timebank was launched with the support of the Wellington City Council. Anneleise Hall from the Lyttelton Timebank was an integral part of the initial workshop and the workshops and community meetings that followed. The local community participated at every stage of the Wellington Timebank's development.
Six months down the track and the enthusiasm was infectious. Timebank members had spread to 22 different suburbs across Wellington, and the natural decision to become the Wellington Timebank was made.
The Future
As you can see, our membership continues to flourish. We have begun to work with other community organisations, schools, rest homes and community centres to people across Wellington. The reciprocity, trust and respect of Timebank members is continually mind-blowing.
The Wellington Timebank may have turned two years old, but we hope to see it existing 20 years into the future!
"It has been an incredible experience for me reaching out in a time of need, and accepting help, so thank you for being a part of that. Blessings on the timebank!" – a Wellington Timebank Member
Find out more and  join up!
Wellington Timebank Facebook Page
Find out more about Timebanking in New Zealand
Living Economies directory of NZ Timebanks
Lyttelton Timebank, New Zealand's first Timebank.
GD Star Rating
loading...
GD Star Rating
loading...
Tags: time bank, timebank, wellington