Home » Club Happyzine
Bugs a bite'n? Try all natural 'It's all good Magic Bites'
Submitted by Charlotte on December 13, 2013 – 8:00 pm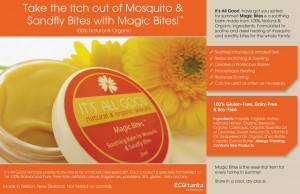 Have you ever been driven slightly mad with itchy bites from bugs?  I have.  I live in a sand fly mecca here in Kotinga, Golden Bay.  In fact they're biting me as I write this.  Slap.  I was relieved to discover Magic Bites.  It truly came to my rescue one itchy evening.  And shortly after it came to my partner's rescue. It's all natural, you apply it to the itchy areas, and it works: fast.
It's made in Nelson, New Zealand and it's distributed by the wonderful ECOtanka team.
Check out its features:
20ml – easy to fit into a backpack pocket or purse
100% natural ingredients
Soothes Mosquito and sandfly bites
Awesome for camping and other outdoor activities as well as just summertime in NZ
Also great for eczema
Ingredients:
Grapeseed Oil, Organic Shea Butter, Organic Cocoa Butter, Organic Calendula Oil, Sweet Almond Oil, Organic Beeswax, Propolis, Organic Active Manuka Honey, Vitamin E Oil.
Allergy Warning: Does contain Bee Products
Please e-mail sales@ecotanka.co.nz to be directed to a retailer
Two lucky Club Happyzine members will be receiving some in the mail 🙂
GD Star Rating
loading...
GD Star Rating
loading...
Tags: club happyzine