Home » Community
Global native project offers permaculture and peace
Submitted by Charlotte on December 19, 2013 – 2:38 pm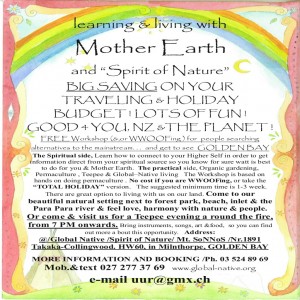 Global Native is a concept devised by people for those interested in a  sustainable and creative present and future .
But what are  Global Natives ? The word Global Native describes those who are native to planet Earth and feel that their life purpose is contributing to the development of a new  organic Mother Earth friendly, peaceful perma-culture and awareness on a practical every day level.
On the spiritual side, we connect to our Higher Self and the Great Spirit to become  free and independent geting information direct from our spiritual source so we know for sure watt is best  for us & our planet – "Mother Earth".
What can one do at the Global Natives place ? Guests and participants  have the following option.
TOTAL HOLIDAY – RECOVERING -HEALING enjoying nature and taking part in some social / cultural activities. ( Please making a fair  donation !) or in the morning doing some Karmayoga (voluntary practical hands on), learning by doing, in our permaculture project,
or you can do WWOOFing (for food an accommodation). In the afternoon  we spend time at the beach and  host sometime workshops, the evenings are filled with gathering around the Teepi fire celebrating, sharing live music and other acts – thoughts and visions,  and nice chai – tea,  (we are an ALCOHOL FREE event )
When does it start ? Any time!  the moer busy time is throuout the summer . Just get in contact with us and we can arrange a  time for you. We look forward greatly to meeting you at our place Thank you for connecting  with Mother Earth and the Global Natives   ALOHA    Black Bear – Ursus     website: www.global-native.org
CONTACT: mail:  uur@gmx.ch     Phone  03 524 89 69      Mobil 027 227 37 65
GD Star Rating
loading...
GD Star Rating
loading...
Tags: Permaculture