Home » Events, Featured
Exhibitors invited for the Christchurch Body Mind Spirit festival
Submitted by Charlotte on January 8, 2014 – 10:48 am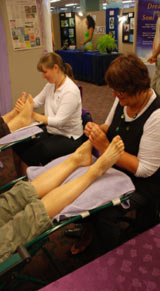 Christchurch Body Mind Spirit Festival – March 8th and 9th 2014
Now well established in our new venue, we're very excited to bring you another engaging and inspirational weekend…
Whether you're seeking information or inspiration, inner peace or mental stimulation, or you're just curious about what's out there, the Body Mind Spirit Festival invites you to revitalise your body, stimulate your mind, and pamper your soul …
With our wonderful selection of exhibitors, our ever popular series of free, inspiring workshops, all day entertainment, and healthy food from Govindas and The Lotus Heart, the Body Mind Spirit Festival promises something for everyone.
The Body Mind Spirit Festival – it's not about being alternative, it's all about being happy and healthy in body, mind, and spirit …
Information for exhibitors
Please accept our warm invitation to be part of our next Body Mind Spirit Festival – a weekend gathering of like-minded people who take a holistic approach to life, promoting wellbeing of the total self.
Upcoming Festival Dates
2014: March 8-9
2014: September 20-21 (to be confirmed)
Why Exhibit?
With a such a broad array of exhibitors featuring a range of healing, metaphysical, spiritual, and physical experiences aimed at improving peoples' lives, we attract thousands of visitors to each Festival. This makes the Fesitval an ideal opportunity to showcase what you do to a wide, appreciative audience.
It's important to remember that events of this nature hold excellent potential for establishing continuing business, over and above what you can achieve over the weekend. It's not about making a sale, it's about making a customer.
Where?
The festival will be held over a weekend, indoors at Addington Events Centre (at the Raceway), Twigger Street, Christchurch. The Raceway is a well known show venue, centrally located, with plenty of space, all under one roof.
What does it cost?
Our philosophy is to keep the cost as low as we possibly can to enable a wide range of people to participate. All prices are detailed on the Site Plan.
An Opportunity to Present a Workshop
Stallholders are invited to present one 50 minute talk or workshop, at no additional cost. We particularly welcome experiential and educational workshops where people can walk away having learnt something new that will enrich their lives.
Please indicate on the Booking Form if you wish to take this opportunity and provide details to be listed on our website (Please note the word limits!).
Set-up
Set-up is from 5pm until 9pm on the Friday and 8am – 9:15am on the Saturday morning. If these times do not suit you, please let us know and we'll see if we can make alternative arrangements with you.
Opening Ceremony
We will have an opening ceremony at 9:15 am on Saturday. All stallholders are invited to join us at this ceremony to raise the energy levels and begin the festival in a positive way.
Other Information
We have a first-in, first-served policy so it is in your interest to return your booking form, along with a $50 deposit or full payment, as early as possible. The deposit is non-refundable, and is required to confirm your site.
If you are requesting power, tables, and/or chairs, please have your final requirements to us no later than one week before the event.
Payment Information
Our bank account details:
Account Name: Body Mind Spirit Festival
Account Number: 01 0822 0089593 00 (ANZ, Sydenham Branch)
PLEASE use your site number as the reference, and email us to let us know you've paid online.
We prefer internet payments. However, if paying by cheque please make them out to 'Body Mind Spirit Festival'. Full payment is due by the start of the month of the festival. We will not be sending individual accounts out, so please diary it now.
Need More Info?
For any further information please contact us. Refer to our contact page.
For pricing information – please see the booking form.
Booking Form
You can complete a Booking Form Online.
Click here for the Online Booking Form
If you've already submitted a booking form, but still need to send us
your talk/workshop description, please click here.
GD Star Rating
loading...
GD Star Rating
loading...