Home » Environment
Passion for rivers – Forest and Bird's Debs Martin speaks up about 2014 and balance
Submitted by Charlotte on January 16, 2014 – 1:04 pm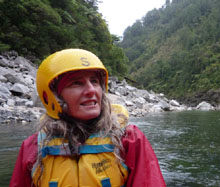 Debs Martin is the Top of the South Field Officer for Forest and Bird.  Happyzine asks her about her focus for this year, which rivers have "stolen her heart," and how she maintains healthy balance in her life.  
1.  What are your current river missions and what's your strategy for making a difference?
My current river missions focus on three major themes:
a. Mokihinui River under the western shoulder of Kahurangi National Park. After saving this wild river from a dam proposed by Meridian Energy, our focus is to protect this fantastic area by adding it to Kahurangi National Park. Currently it is stewardship land, and the Parliamentary Commissioner for the Environment has already said we need to reclassify this land. The Minister of Conservation, Nick Smith, has said he is looking to reclassify some stewardship land – so we're advocating for this as part of our election year strategy.
b. Protecting the habitat in our braided rivers for specialist birds like black fronted tern. Places like the Buller River are home to a variety of birds that need the weed free shingle braids of riverbeds to roost, feed and breed. A variety of activities threaten these places, including damming, 4WDs in riverbeds, weeds – and of course, notorious pests like stoats and hedgehogs. Identifying these rivers is part of our ongoing work with an international programme. This work is just being completed and we will use this to advocate for the protection and restoration work around these places.
c. Small coastal rivers. The top of the South Island is blessed with a myriad of small streams that run into estuaries and out into Tasman and Golden Bays. Many of these small streams face enormous pressure from coastal development, roads, and are often stalked by notorious killers – like cats! Although some are protected within places like Abel Tasman National Park, many of these dwelling places for our smaller native fish are often in semi-rural, industrial or urban environments. We are working with Tasman District Council and Nelson City Council through the Biodiversity Forums, to both advocate for, and become part of restoration projects that aim to improve the health and well-being of these areas.
2.  Which river/rivers have stolen your heart and why?
Four rivers have stolen my heart truthfully:
a. Rangitata River (Canterbury): this is my home awa – I was raised next to it, I have swum in it, raft guided on it, advocated to save it, protected its wetlands, gazed at its mighty flows, and still spend seasons watching the birds, walking its banks, and admiring its magnificence.
b. Pelorus River (Marlborough): A more picturesque river is harder to find. And my special attachment is because I am part of work to save long-tailed bats that use this catchment, and the forests alongside it, as their home. The river provides them with their pathway and their food source. Its crystal clear waters are astonishing. And its GREAT for swimming. A leisurely multi-day walk up the catchment into Richmond Forest Park (avoiding sandflies) is highly recommended.
c. Aorere River (Golden Bay): This river is the spiritual home of my partner. It is also a place where we spend summer, swim in, and gather food from our orchard alongside. Its mighty power swept away our caravan a few years ago. Its upper catchment within Kahurangi National Park is a multiplicity of twists and turns, boulder gardens, and limestone bluffs. A national treasure.
d. Mokihinui River (Buller): After spending many years trying to raise the profile of this river and save it from an imminent threat of damming, I can truly say that the Mokihinui River is one of New Zealand's. The gorge is a tightly twisting steep sided wilderness. Above the forks, it has many faces. Its home to blue duck, longfin eel and even more long-tailed bats. A place to ensure we protect for the future.
3.  How do you maintain that balance in your life as a passionate environmentalist – between working for change and staying healthy and happy?
I sometimes wonder if I do a good job of maintaining a work/life balance. But the core is this: knowing that the work I do is for the good of nature, that it is nature that I am working for – and not humans. That I'm helping speak for those that can't speak. That gives me enormous strength.
It's the little things … Find out more about Deb's approach to staying optimistic and maintaining life balance by joining Club Happyzine and receiving our member's ezine this Friday.  Receive exclusive stories about New Zealand's most inspiring leaders.  Find out more!
d.martin@forestandbird.org.nz
GD Star Rating
loading...
GD Star Rating
loading...
Tags: Environment, rivers