Home » Business, Club Happyzine, Featured
Taranaki surf shop 'Raw' Green 'N Mean!
Submitted by Charlotte on January 21, 2014 – 10:42 am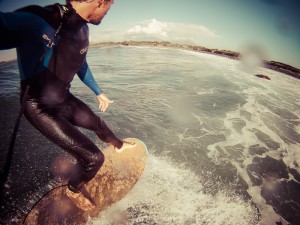 In case you hadn't noticed, we're paying homage to surfing this week on Happyzine – and what better place to visit than an eco-friendly surf -shop?  Based in Taranaki, Olivier Perkins runs the green surf-shop Raw.  Happyzine catches up with Olivier and asks him what it means to be green in the surf industry.
1. Tell us a little about yourself, who are you and how did you come to be running Raw?
Raw was born out of the frustration of seeing the harmful and negative impact of the surf industry on the environment. We're out there enjoying the best sport in the world (true fact!), where you're about as close to the raw power of nature as you can get and yet the boards we ride are made from toxic products and plastics that ultimately end up as non-biodegradable landfill, further polluting the environment.
Teaming up with a local board builder that had a long history of quality craftsmanship we began working on production methods for the surf industry that were more respectful to nature, healthier and had less negative impact to the environment.
2. Can you give us the low down on the lengths you'll go to to run an eco-friendly surf brand
Raw www.rawsurf.co.nz focuses on sustainable methods of surfboard construction using advanced flax fiber composite construction and a recycle/reuse factory process. All the boards are hand crafted and 'built to order'. Raw works with other eco-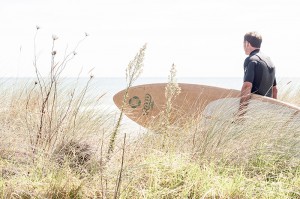 minded companies and products and aims to continue improving their sustainable focus without compromising surfing performance. As a Surf Aid sponsor Raw Surf donates 5% of all board sales direct to Surf Aid ("helping those in need that are connected to us through surfing").
"The goal is to provide the ultimate balance of performance and eco-friendliness, or as we like to call it: Green N' Mean!"
3. What does Raw offer?
We're a New Zealand company, supplying discerning surfers with some of the best inflatable SUP boards and Surfboards, using sustainable and environmentally friendly production methods.
All our boards are hand made in New Zealand and 'built to order' rather than mass-produced and stockpiled, which avoids adding to the expired surfboard wasteland where last years model is left in the store gathering dust.
Alongside the range of SUP and surfboards Raw we work with other eco-minded companies and product suppliers, offering a range of surf friendly items from organic cotton tshirts and recycled leashes to NZ board bags made from recycled billboards. Recycled leashes?! Yep, they have a recycled urethane cord and it's guaranteed for a year.
The Raw boards have a unique look, with the flax lending an organic style, but the material goes beyond just the aesthetic and sustainable aspects. With a seriously high strength comparable with the best glass fibers, it provides a lightweight laminate that has dampening properties twice as high as Kevlar and creates a board that far outlasts most. It's an amazingly evolved product from what is essentially one of the oldest fiber crops in the world. The early use of flax for the production of linen goes back at least to ancient Egyptian times.
The Flax fibers used in our boards is a totally biodegradable and renewable resource. Being derived from a plant it of course grows naturally, but it's a hardy crop that requires minimal or no fertilizers or pesticides and doesn't require irrigation during the growing process. On top of that it's also carbon neutral, absorbing the same amount of carbon dioxide it produces.
4. What's the main thing in life you've learned about getting happy and staying happy?
Do what you love, love what you do!
Check out Raw online: www.rawsurf.co.nz
We have two Raw tee-shirts to give away to members of Club Happyzine, or intending members.
GD Star Rating
loading...
GD Star Rating
loading...