Home » Events
Flax-roots Festival aims to Make a Difference.
Submitted by Charlotte on January 23, 2014 – 6:35 pm
Join Club Happyzine and you could win a double pass to the Muriwai Waitangi Day Festival!
Warren Maxwell, front man for popular groups Trinity Roots and psychedelic blues quartet Little Bushman and musician/producer Tiki Taane are just two of the headline acts set to play at this years Muriwai Waitangi Day festival on Feb 6th
The Muriwai Waitangi Day festival was first staged the first festival in 2012 and sold out within two hours. Organisers are confident that the little festival with the 'big kaupapa' will be successful again.
"Our festival isn't an annual event and its not the biggest, flashest festival in town and that's actually one of our attractions, particularly for families,' says Festival director Moana Maniapoto.
"My goal is to showcase performers whose music does reflect their New Zealand identity. As well, we host Treaty Hot Seats onstage that focus on the theme Every Day is Waitangi Day. We want to integrate the korero into the concert so its not sidelined off to a little tent. This is a kaupapa-driven festival – and we're next to a stunning surf beach. What's not to love?" said Moana.
Festival organizer Erin Griffin is confident the event will sell out once again.
'This event is run entirely by volunteers with all profit back to the Muriwai community,' says Erin.'We are fundraising for our new surfclub/community centre.   Now we are moving our festival to the grounds of the Surf Club, just behind the sand dunes so it's perfect."
This year, the festival is setting up an Ocean Hub co-ordinated by local Tracy Brown that celebrates Ocean, but also creates an opportunity for environmental groups to educate about seabed mining, drilling, shark-finning, overfishing and its potential impact not only on the health of Ocean, but also on our own.
Aquarium designer Nicholas Traviss, a contributor to the Ocean-Hub, is passionate about Ocean and commented that research has shown that if humans continue as we do, "by 2050, there will be no more fish in the sea."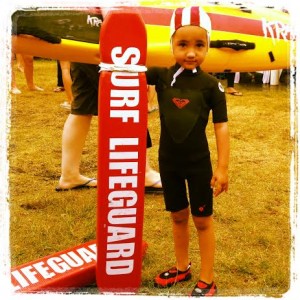 'We want to inform festival-goers,' said Tracy. 'We also want to provide them with some options that they can take as an individual, a family or community to actually make a difference."
Thanks to Zero waste Consultant Chris Pairama and his strict policy with vendors and ticketbuyers, last years festival was staged with no rubbish tins and the audience left barely a shopping bag full of rubbish behind.
"Chris educated all of us,' says Moana. 'My band and I (Moana & the Tribe) play at many festivals around the world and the most horrific thing is watching the crowd disperse after the last band and seeing the mountain of rubbish they leave behind.  There's no need for it and Chris has taught us how."
Popular soul funk unit Soljah (with its Kaipara connections), Wellington-based singer Ria Hall, local Nat Rose and the legendary Will Crummer and the Rarotongans will also play. Piha-based electronica musician Paddy Free (Nga Tae, Pitch Black) steps out from his many bands to do a solo stint. He then joins Moana & the Tribe.
Info: www.muriwaifestival.com
Muriwai Waitangi Day Festival, Muriwai Surf Club Outdoors
Thursday, Feb 6 (Rain or shine) – 10am-7pm
$20 Adults, Under-12 Free (must be accompanied by an adult).
All profit to Muriwai Surf Club & Community Centre Auahi Kore, No alcohol, No pets. Zero waste
Tickets: www.eventfinder.co.nz and Dunz Café (Muriwai) or The Daily Squeeze (Waimauku)
Proudly supported by Te Waka Toi (Creative New Zealand) and Rodney Local Board.
We have two tickets to giveaway to members of Club Happyzine!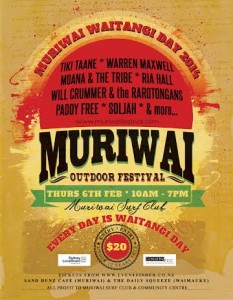 GD Star Rating
loading...
GD Star Rating
loading...
Tags: Maori, Music, waitangi day