Home » Maori, Music
Maisey Rika: Feed your soul and the world will seem a better place
Happyzine founder Charlotte Squire first fell in love with Maisey Rika's soulful vocals when she heard Maisey's first album, several years ago on Fresh FM.  Charlotte caught up with Maisey, as she prepares for her tour in the States, to ask her three big questions … 
1.  How do you keep yourself grounded and in balance as you grow in popularity both here in Aotearoa and beyond?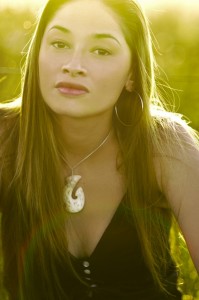 MR:  Kia Ora. I believe my cultural upbringing has kept me firm on the ground. Maoritanga provides me with grounding, humility and respect for all things in life as its these aspects that give you dignity. My whaanau (family) also provide me with support and inspiration so if I'm ever off kilter they will surely pick me up again. My home (Whakatane) and environment also play apart. I mean its easy to lose your way in a city environment so living in a small town helps with the security I suppose. When I'm away in a big city or overseas for music its always refreshing to come back home to nice, peaceful quietness.
2.  How do you maintain the aroha for your craft, when you play so much music?
MR: I was brought up in a musical family. You either sang, played musical instruments or played sports. I am just fortunate enough that I am able to use my passion and love for music as a career. It was instilled into me at a young age – if you have a taonga (gift) you look after it. So that's what I do.
3.  Right now, because life changes constantly, what feeds your soul? Where do you find happiness Maisey?
Read Maisey's inspiring and thought provoking answer to this final question by paying-what-you-can-afford to join Club Happyzine this week and receiving the good news of Aotearoa each Friday.
Thank you all for the support
Nga mihi nui
Maisey Rika
GD Star Rating
loading...
GD Star Rating
loading...