Home » Food
Plentifull Deli's Soba Noodle Salad – from the Kiwi Diary 2014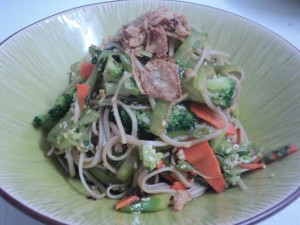 Happyzine are keen Kiwi Diary-ists.  This year we're sharing some of the amazing content from the Kiwi Diaries of both yesteryear and today … such as this recipe for Soba Noodle Salad, thanks to the "wond
erful and amazingly talented" Wendy Hillyer, owner (and chef extraordinaire) of Plentifull Deli, Majoribanks Street, Wellington.
180g soba noodles
½ telegraph cucumber, peeled, deseeded and thinly sliced
1 capsicum, deseeded and thinly sliced
2 spring onions, thinly sliced
sml bunch coriander, roughly chopped
sml bunch mint, roughly chopped
½ fresh chilli, finely sliced
6 florets broccoli, blanched and sliced
2 stalks celery, thinly sliced
2 T toasted sesame seeds
2 carrots, peeled and finely sliced
Fried shallots for garnish
Dressing
50 mls Soy sauce
1 heaped T Liquid honey
25 mls Peanut oil
40 mls Sesame oil
30 mls  Mirin
Sml piece ginger, finely chopped
Cook the soba noodles in boiling water for four minutes.  Drain and refresh under cold water then toss a little of the peanut oil through to stop it sticking together.
Whisk all of the dressing ingredients together.
Toss all ingredients together and sprinkle with toasted shallots to serve.
The Kiwi Diary is designed to celebrate Kiwi culture and creativity – it is equal parts diary, cultural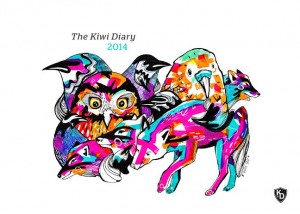 almanac, art gallery, poetry collection, recipe book, and intelligent magazine. Over 80 carefully-curated contributors including chefs, poets, artists, writers, photographers and influencers contribute their creativity and ideas, bringing 365 days of uniqueness and inspiration to your 2014. The Kiwi Diary 2014 is practical, beautiful and smart, you'll love its celebration of the place we call home, and it's the perfect postal gift for overseas friends.
For the person who has everything!  You can find out more or buy a copy here
GD Star Rating
loading...
GD Star Rating
loading...
Tags: Food, kiwi dairy