Home » Events, Featured
Win free tickets to Tui Delight in Golden Bay!
Submitted by Charlotte on January 31, 2014 – 8:05 pm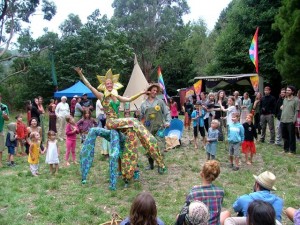 Press Release: DeLight Tui Summer Festival
Date: 10 Dec 2013
Contact: Inna Alex –  021 132 1765 or 03 525 9535. innadevi@gmail.com
Tui Community in Golden Bay is living proof of the sustainability of multiple dwellings on rural land in the Tasman District.  This February 6th, they are opening their doors to showcase a successful intentional community at the DeLight Tui Summer Festival.
Besides tours of the community, the celebration of their 30th anniversary offers a day of eight live music acts, featuring folk, jazz, world music and reggae; with musicians from Golden Bay, as well as from Australia, the US and Europe. There will also be delicious food, a colorful kids programme and some further surprises. Fun for the whole family!
Two years after Tui Community sufferered major damage from the December 2011 flood, DeLight is becoming an annual highlight at the Tui Events Park in beautiful Wainui Bay.  Last year's pilot event was a successful fundraiser for plantings to help with flood remediation on the community land.  Tui residents are excited to welcome the wider community into their midst and show the progress of remediation as well as demystify what intentional community living is about.
The zero-waste, alcohol- and drug-free event on Waitangi Day runs from 2pm to midnight, and will be followed by a workshop programme facilitated by Tui residents the next morning.
Entry is on a sliding scale to allow people to gauge themselves how much they can or wish to contribute. Kids under 12 are free.
For more information visit: www.tuitrust.org.nz
We have two tickets to Club Happyzine members to give away.  Email charlotte@happyzine.co.nz to claim your prize!
GD Star Rating
loading...
GD Star Rating
loading...
Tags: tui