Home » Events
Win two free tickets to the Waihi Bush Music Festival 2014
Submitted by Charlotte on January 31, 2014 – 9:39 pm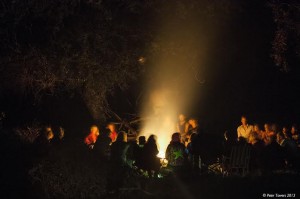 This is one of the most "laid back" music festivals in New Zealand – a family orientated festival with lots of things for children to do. Featuring the best of local and international singer/songwriters and plenty of opportunities to perform in Blackboard Concerts.
Check it out on facebook.
Guest artists:
Hannah Harding – The "Amazing Hannah Harding" is releasing her debut album funded by NZ on Air. Check out her music on You Tube
Jesse Brand – A Canadian singer/songwriter traveling New Zealand on a grass roots album tour "Folk for the Soul – Soul for the Folk"
Catgut & Steel – The contemporary folk duo of Mike Moroney and Anna Bowen – "they have a sound bigger and fuller than two musicians would normally command"
Rob Ten Broeke and Anna Groves – A Kiwi acoustic duo from Kapati. Their music has been described as "soulful and touching"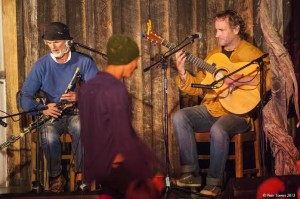 Olli Ricken – The fabulous Acrobatic Clown – wickedly clever clown theatre at its best
Programme
Waitangi Weekend
Thurs – 6: Arrive anytime – evening welcome concert and bonfire late evening.
Friday – 7 Workshops in the morning, concerts in the afternoon, barn dance in the evening and bonfire late evening.
Sat – 8: Workshops in the morning, concerts in the afternoon, Final concert followed by Tango Milonga and bonfire late evening.
Sun – 9: Workshops and pack up (ends 11am).
There is ample opportunity for everyone to perform, be it at the Black-board concerts or late at night around the camp fire.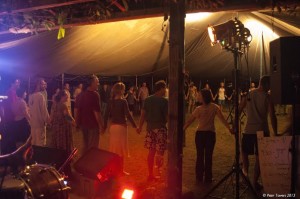 Workshops
Acapella choir
Tango
Musical improvisation
Contra dancing
More to be confirmed
Tickets – Registration on Arrival
Adult – $80 for the weekend
$40 per day
$20 Single Event
School Age Children Free
Food Onsite
Mammas Kitchen – handmade authentic Inner Mongolian dumplings etc – made to old family recipes
Practical Details
We have a gorgeous camping area on Waihi Bush Organic Farm, alongside 15 ha of virgin native bush, and a river with swimming holes.  We have running tap water from our own spring & composting toilets (smell free), and there is a Pizza Oven and BBQs available.  There is lots of parking for cars and buses, with graveled access. Pets must be controlled at all times.
Websites to checkout: 
http://www.folkmusic.org.nz/self-harding.php Hanna Harding Review
www.jessebrand.tv Jesse Brand Music
http://catgutandsteel.com/index.html Catgut and Steel Music
www.olli.co.nz Olli the Acrobatic Clown
We have two tickets to give away to Club Happyzine members.
GD Star Rating
loading...
GD Star Rating
loading...
Tags: festival, waihi bush