Home » Environment
Jade Temepara fuses food forest, organics and permaculture at Ellerslie
Submitted by Charlotte on February 23, 2014 – 8:43 pm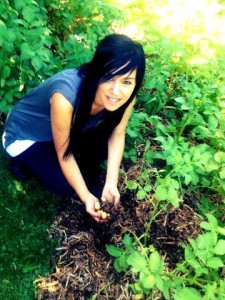 Plentiful food in Ellerslie's Perennial Paradise
Tipu Design's Jade Temepara is back at Ellerslie with a new delicious, edible garden called "Perennial Paradise". 
After winning a silver medal in 2012 with her "Digging the Future" edible backyard design, mid Canterbury-based Mrs Temepara is fusing food forest, organics and permaculture principles in a garden that feeds, heals and enhances family life.
"I was shocked at the lack of food in the supermarkets in Ashburton and Christchurch after the earthquakes," says Mrs Temepara. "My vision is to create liveable, edible gardens where people share meals and plants at the same time as building community."
To push the sustainable nature of "Perennial Paradise", Mrs Temepara has installed a reused shipping container on site, complete with a bed, kitchen and a bathroom highlighting eco products. Grey water from the container flows to feed the orchard, as does a rain collection storage solution via a pond, showing how waste from one area can be used by another.
Mrs Temepara says she has focussed for the past year on creating sustainable gardens, homeware and chemical free storage solutions in her business, Tipu Design. "I am constantly increasing my knowledge and experience," she says.
"Perennial Paradise" showcases this knowledge. It has its own beehive, solar power, waste water system, compost toilet, recycled pond materials and dwarf fruit trees, as well as herbs, medicinal plants, heritage plants and fruit hedges.
Tapping into the skills and knowledge of her grandparents from Ngai Tahu, Ngāti Tuwharetoa and Ngāti Mamoe, Mrs Temepara is passionate about sharing the lost art of growing food at home. She founded and runs the "Hand over a Hundy" ($100) organisation, which is successfully teaching families around the country how to use a hundred dollars of seeds and seedlings to feed themselves indefinitely.
Perennial Paradise is one of 16 major gardens at Ellerslie in 2014, twice as many as last year and more than ever before.
Ellerslie International Flower Show is in Christchurch's North Hagley Park from 26 February to 2 March 2014.
Buy your ticket by 25 February and save $5 off the gate price.
GD Star Rating
loading...
GD Star Rating
loading...
Tags: organic, Permaculture