Home » Food
Tauranga food rescue diverts 27 tonnes of good kai from landfill
Submitted by Charlotte on April 3, 2015 – 7:15 pm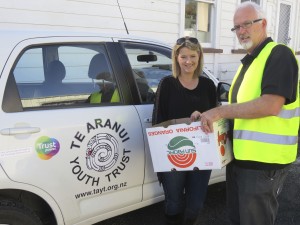 By Melissa Pentecost-Spargo
Imagine being able to say you've diverted a staggering 27 tonnes of food from your local landfill, in one short year.  A Tauranga man and his friends are able to claim this, and they've been officially recognised for their efforts.
Tauranga resident John Paine, along with his wife Jackie, Lavina Good and a large team of helpers, have been instrumental in initiating the Food Rescue – which uses food from supermarkets that would otherwise be thrown away. The project has provided around 80,000 wholesome meals to groups like Womens Refuge, Foodbank and Homes of Hope in the Bay of Plenty.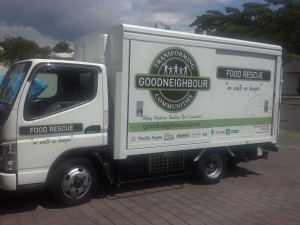 This work has seen them win a community award and go on to represent the Bay of Plenty (along with other award winners) at the Trustpower National Community Awards in Wellington over the weekend.
When I spoke to John, his passion for what he's helped organise was obvious. He was excited and animated while showing me food he had collected from a local supermarket just that day, ready to be allocated to one of the groups chosen as recipients.
Food is one of life's great pleasures. Sure, that might sound cliché, but think about it – we all have the need to eat in order to keep our body going and everybody enjoys eating food that appeals to our own tastes. So, what about the food that doesn't get eaten or enjoyed by anyone? What about that day-old Danish, slightly beyond-its-best banana or decidedly damaged frozen dessert that doesn't sell at the supermarket? Where does all that potentially palate-pleasing food vanish to?
Generally it ends up in the nearest landfill, where it will decompose. Unless it's rescued. Unless it's taken by a forward-thinking, willing group of people working together to ensure truck-loads of otherwise wasted food can be offered to community groups that need a helping hand now and again, in the form of a pleasing, belly-full of breakfast, lunch and dinner!
Something further has developed with this exercise, as John envisaged from the start of Food Rescue. A fantastic, growing sense of 'good feeling' in Tauranga community is spreading like wild-fire.
Hearing John explain this gives me a feeling of real excitement at what seems like the ground swell of grassroots change he's enabling by setting up Food Rescue. It appears the local Tauranga population are also feeling grateful there's an opportunity to do something practical for others in their area.
Food Rescue needed volunteers as the vital spokes of the wheel to get the idea rolling and John tells me there is absolutely no shortage of people more than willing to step in. Business professionals on their lunch break will come to the sorting shed, based close to downtown Tauranga, to help out. One of the local supermarkets, Brookfield New World, has five staff members a month, happy to be rostered on as volunteers for Good Neighbour Projects. They, along with Papamoa and Tauranga Pak 'n' Save, generously donate their damaged goods and food items as well.
All goods given to Food Rescue cannot be sold to the public for a number of reasons, but are all able to be collected by John and the team and passed on to organisations that make good use of it. John initially contacted Kaibosh in Wellington to discuss the feasibility of setting up a Food Rescue group in the Tauranga area, and in a similar vein, he now has community groups from all over New Zealand – eg Christchurch and Hawkes Bay – getting in touch with him to get advice on how to start something similar in their towns Talk about passing on the pleasure of food! Find out more about Good Neighbour Projects and Food Rescue here: http://www.goodneighbour.co.nz/ [1]
GD Star Rating
a WordPress rating system
GD Star Rating
a WordPress rating system