Home » Eat Local challenge
Sarah and co. fall off the local food wagon. With good reason.
Submitted by Charlotte on April 7, 2015 – 6:00 am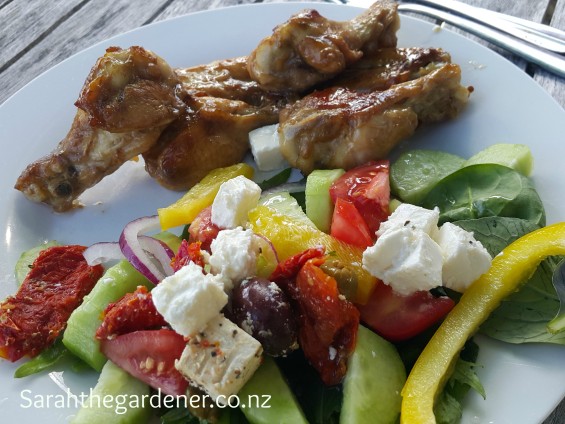 Local Lo-carb
By Sarah O'Neil of team 'Sarah the Gardener and her Reluctant Diggers' – based in Waikato.
Switching out the 'L' in local for 'RB' in lo carb has been interesting. We have learnt just how inconvenient our voluntary dietary requirements can be.  It would seem we caved at the first hurdle.
But it wasn't just so we could seen to be polite or to avoid a fuss.  While spending the night with friends the question "Is it local?" became a running joke each time food was presented as we all knew it wasn't likely.  This family had enough trouble gathering together the kind of food that would meet the strict dietary arrangements required to keep their daughter in a position that can be called stable health.
Everyday they are faced with a similar situation to us in that they need to thoroughly examine their food choices.  While ours is a bit of short term fun for a competition spreading awareness to the dodgy state of our food supply chain.  Theirs is a life and death.  So they win…  we won't inflict our frivolous dietary requirements on their already precarious needs.
It's only for a day. Walking a mile in their shoes has been quite eye opening. When we get home we will  resume our local journey with a new found humbleness.  Food choice is often not a choice for many.
Come again soon – we shall be back on the wagon wholeheartedly.
Sarah  the Gardener: o )
GD Star Rating
loading...
GD Star Rating
loading...
Tags: eat local, eat local challenge