Home » Eat Local challenge
She couldn't resist the bunny in the freezer, but Ooooby saved the day

By Jana Harrison of team 'Janabanana', Auckland
They are Kiwis eating food grown and produced within a 200 km radius for 30 days of April in theHappyzine Eat Local Challenge.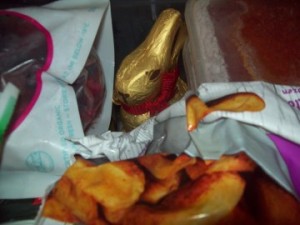 What a terrible terrible week on the Challenge it has been. Everything has gone pear shaped and that would be a pear not within a 200km radius of here. Easter,visitors, invitations out and feeling poorly have overthrown all my resolve and good intentions.
I started out well, the chocolate bunny went into the freezer for safety. Sadly this was not enough and he was duly devoured …..oooops. There have been a few other mishaps, all dutifully recorded in the food diary.
Going forward I think the two main difficulties for me will be
Managing socialising invitations/ eating out Having to cook most things from scratch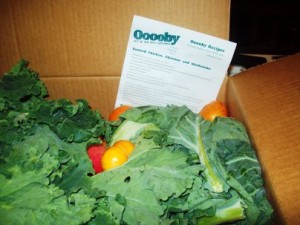 On the happy side, I love ooooby How easy is that. A box came this week packed with super fresh fruit and veges, lots of which were organic and everything bar the carrots was within the zone.
I am really excited now orchard mandarins from Mareana in Coromandel, apples and pears, regulation pears this time, from Graham in Coatsville are all back on the menu. Thank you for taking some of the thinking and sourcing over ooooby. Although I am still wondering what to do with those chestnuts.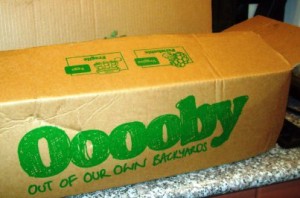 GD Star Rating
loading...
GD Star Rating
loading...
Tags: eat local, eat local challenge