Home » Environment
12 promote sustainability by paddling Abel Tasman on plastic bottle kayak
Twelve passionate change-makers have returned from an epic journey, paddling the Abel Tasman coastline on plastic bottle kayaks to promote a sustainable message.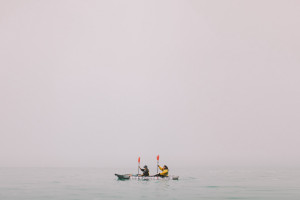 The young leaders and innovators are on a mission to make sustainability exciting and educational having undertaken a three day adventure powered by over 1000 plastic bottles and a bit of kiwi ingenuity.
"The expedition this year was a huge success" says Plastic Bottle Kayak co-leader Ajay Ravindran. "It was simply phenomenal to be in the Abel Tasman, surrounded by the most beautiful coastline and bush this country has to offer knowing that we had a powerful message to deliver.
"To be able to explore the coastline on kayaks made out of plastic bottles, with some of the most inspiring young leaders in Aotearoa made it even more special. It was really exciting to be able to glide up to seals on our plastic bottle kayaks and battle waves and downpours. I loved every moment of it."
With the aim of harnessing innovative design to construct kayaks solely from recycled materials, the "waste positive" project also brings adventure into Kiwi classrooms.
Working in collaboration with sustainability and education experts to design lessons that work with the current school curriculum, for the very first time kiwi kids have had the chance to be a part of each stage of the adventure, from writing messages to go inside the plastic bottles and helping to name the kayaks, to video interaction with the crew during the journey while they have learnt about topics from the design process, to marine ecology and sustainability and social enterprise in the classroom.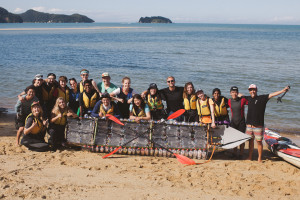 Students are now challenged to apply what they have learned and undertake environmental actions within their schools or communities and have access to support from the youth leaders that are in their region.
This year the expedition team was joined by local celebrity, self proclaimed ocean enthusiast and all around inspiring young New Zealand singer-songwriter; Jamie McDell. "I'm really excited to be involved in this amazing project," says Jamie.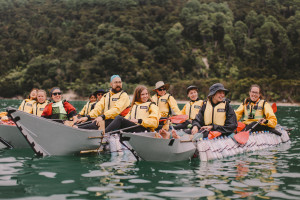 "I'm always striving to find ways to educate our younger generation on conservation and The Plastic Bottle Kayak is the perfect way to introduce people into sustainable practices and make it fun and interesting."
Ajay says there is an exciting future ahead for the Plastic Bottle Kayak initiative; "we are very excited to be looking at taking this project to the next level," he says. "We want to make this bigger and better. How? Well you're going to have to watch this space to find that out!"
GD Star Rating
loading...
GD Star Rating
loading...
Tags: Plastic Bottle Kayak