Home » Eat Local challenge
Markets bring the story of the food into focus for Eat Local participant
By Jana Harrison of team 'Janabanana', Auckland
Kiwis eating food grown and produced within a 200 km radius for 30 days of April in theHappyzine Eat Local Challenge.
To market, to market, to buy ….lots of yummy things. To help me source local food for The Happyzine Challenge. I have been checking out local markets and having lots of fun shopping in a relaxed, chilled out, try everything along the way, way.  Much nicer than the fraught fortnightly visit to Pak n Save, if somewhat costlier.
But then price is not the only cost of our food. There are environmental costs, health costs and the benefits of supporting local growers and keeping money in the community. Did you know there is something called the*local multiplier effect. * Which is all about money spent with locally based
businesses circulating and recirculating within the community 6 to 15 times before it goes off.  That's got to be good for all of us.
Last Sunday I went to the very eclectic Takapuna Market which has lots of veges, foods, crafts, bric a brac, food trucks, buskers and mmmmm coffee. The nice thing about shopping this way is you get to connect and talk to the people who are growing or making your food.  I got sprouts and potted herbs from Lynn who lives locally and has been selling at Takapuna for well over 20 years.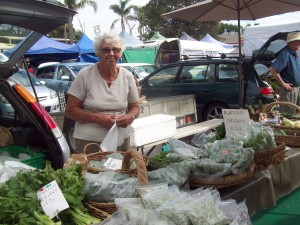 Cheese from The Cheeseman Well not THE cheeseman as he wasn't there but from his stall.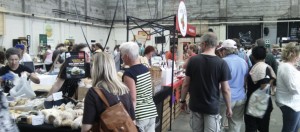 This week it was across the water to The Hobsonville Farmers Market which runs on Saturdays and Sundays.  A much more Artisan affair.   I came away with Jerusalem artichokes grown 1 km away and basil mint which apparently makes a great pesto. Although I will have to find some local nut to try for
that.  Maybe the chestnuts might work.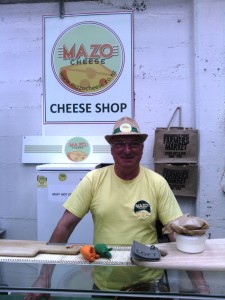 A delicious dry crumbly  feta made from milk from an organic dairy herd in Whangarei, within lions roar of Zion Wildlife Park.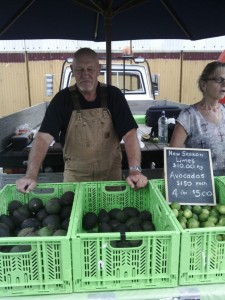 Orgasmic Avocado (well that is what the sign says) along with a great recipe for avocado bread and excitement of excitement limes from just short of Tauranga which the stall holder insisted was within the 200 km.  I google mapped it and from Youngson Rd to me in Beach Haven is 201 km!
I think next week I will be off across the bridge to try out what Grey Lynn Farmers Market has to offer.
A Good week all round on the Happyzine Challenge
GD Star Rating
loading...
GD Star Rating
loading...
Tags: eat local