Home » Eat Local challenge
She's loving the people behind the local food, but she's stumped on breakfasts.
Kiwis eating food grown and produced within a 200 km radius for 30 days of April in theHappyzine Eat Local Challenge.
By Sophie Austin
Comment on this post and win a spot prize!
Its been a steep learning curve to source all my food, but a real joy getting along to my local market each week! But I'm still a bit stumped for a really good breakfast, what's everyone having? (been eating my wild card Quinoa porridge or fruit and the occasional egg).
Easter was the biggest challenge for the first weekend, right when I was sick of garden salad and quinoa 3 times a day! I had already planned to make my own chocolate for Easter eggs before I signed up to eat local so theres no harm making them right? Accept I couldn't NOT lick the spoon!  I've factored in Organic Fairtrade cocoa into my 5% for the occasional treat… but that doesn't include the hot cross buns which just fell in to my mouth on Easter Sunday….!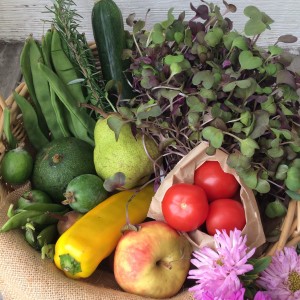 So the most exciting thing I'm finding about this challenge is talking to all the growers and sellers, hearing about where their produce is from and their passion behind cultivating it. I'm pretty stoked to have got all the same and even more varieties of veg that we would get from the supermarket so I've managed to get my husband in on the local veg portion at least. He's not allowed my dairy products as they cost a million dollars!
I found a great web page for local milk producers and drove out west to get my goats milk!  Such a treat to pull it out of the fridge with the actual goats in the field behind! Talk about paddock to plate! I'm pretty impressed with the variety of small dairies in and around Auckland, but the economies of scale of these smaller enterprises are burning a hole in my pocket! On the flip side, knowing the name of the person who literally milked your milk, and seeing the beautiful creatures wandering the fields is absolutely priceless.
http://www.cottagecrafts.co.nz/dnn/MilkMap [1]
PS. Tip for any tea drinkers with Hamilton/ Cambridge in your radius, the Zealong Estate is New Zealand's only tea plantation!!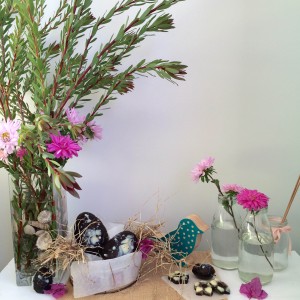 GD Star Rating
loading...
GD Star Rating
loading...
Tags: eat local challenge