Home » Eat Local challenge
Green Team – Eating Local at the Temple
By Jizzy Green, Katikati, Bay of Plenty
Kiwis eating food grown and produced within a 200 km radius for 30 days of April in the Happyzine Eat Local Challenge.
Note: Jizzy and her partner Mike will be eating local in Fiji for half of the challenge, and are intending to live off local food there too, reporting back on their experiences if they can access internet.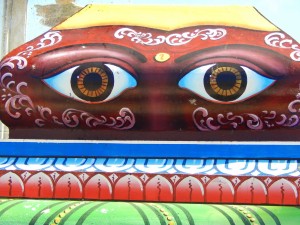 Day 14
Sorry to bore the pants off of y'all, with a blow by blow account of what we each each day for the month of April, but it is a 200km Eat Local Challenge.
Breakfast:
A really uneventful day, filled with monsoonal downpours fit to break the banks of any rivers!  We had our usual Fijian hotel breakfast of fruit: guava, watermelon, pineapple and papaya.  We had our coconut that Ty handpicked for us during our stay at Musket Cove, so we asked the kitchen to open it for us.  A nice supplement to our breakfast.  It elicited a conversation with an Indian couple who were sitting next to us – she inquired as to where we had gotten it.  Turned out they were an ex-Fijian Indian couple who currently live in the US, and were staying briefly in Fiji in transit back from Australia where they had been visiting family.  He is an insurance agent, who moonlights in a band playing Bollywood music!
We were confined to our hotel room (which really is not the Ritz!)  Very basic accommodation, with a big TV and a bathroom with a floor drainage plug out of which all the tiniest baby cockroaches emerge at night to cavort around merrily.  Oh well, at least they leave the adults at home in the drain!  It poured with rain the whole day, so we were stuck indoors suffering from cabin fever.  The hotel spa wasn't operating, so we alternated with surfing TV channels, swapping our own reflexology and sleeping.  We kept on waiting for a break in the rain, but these were all too brief.
Lunch:
A humble affair; Rewa Fijian cheese and rice crackers (our chosen grain).  So a couple of hours later, when the hunger pangs started to sound, we ordered cassava wedges and sour cream – nice but really not the healthiest of snacks!  The oil seems to soak right into the cassava strands (like stringey potato) but when you are hungry, I guess you"ll eat anything!
Dinner:
We dined at the hotel Japanese restaurant – local sautéed veggies and rice, with a plate of 6 of the smallest sushi I have EVER seen!  Small portion, but we weren't that hungry after the wedges.  We had a small ice-cream portion of Fijian ice-cream for dessert.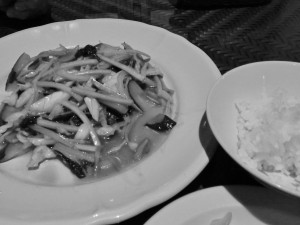 Challenges:
How I miss biscuits!!  And bread!!  Walking past the croissants at breakfast takes all our willpower!!
Highs:
We are learning that we do have a lot more willpower than we thought we'd have!!   But I do think we need another pizza before leaving Fiji!!
Day 15
Sunshine!  And heat!  Yay!
Breakfast as usual, and we supplement with a little coconut left over from yesterday.  We thought we may make more smoothies than we are, but there is just no space or equipment to make them in the hotel room.  We are at the mercy of circumstance. We headed off to Nadi town, Shaggy the Indian cousin of Ramayan picked us up and dropped us off at the Sri Siva Subramaniya temple.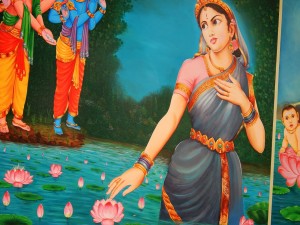 We spent a good couple of hours wandering around in our borrowed saris, to cover our legs and look respectable for the gods.  I LOVED every minute there, as much as I enjoyed it last time!  We heard how families can come and pray to the different deities and I particularly liked the one, Saraswati – the Goddess of Learning/Studies.  The priest told us that parents can come and pray to her to make their child learn well, in case their child is not studious!  Haha!  Where was Saraswati last year?? Perhaps my daughter may have swotted and passed her exams if I had known about the benefit of making a large donation to Saraswati on her behalf!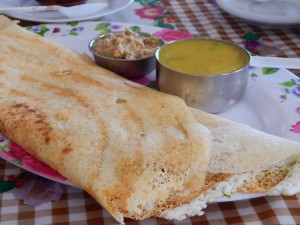 We meandered up town, looking in a couple of Indian shops selling Indian paraphernalia, bought some gifts for our children and some shoes for ourselves.  We caught another taxi to Tu's Place, an eatery highly recommended by our American couple we met on the catamaran.  It was another opportunity to meet up with Sue, my old school budd.  We had an AMAZING hot toddy – with ginger, lemon juice, mint and a fair swag of honey.  They usually top it off with brandy or whiskey but it tasted just fine without the alcoholic addition.  Our steamed local veggies and rice was super-tasty and so was our flat white!  In fact, it was probably one of the best I have had in a long while!  An afternoon snack, we snacked on our NZ bought cheddar biscuits and Fiji cheese, with a drinking coconut and flesh for pure indulgent pleasure!!
Dinner:
Methinks we shall repeat the pizza, JUST BECAUSE!  Holidays are for breaking all the rules!!  15 000 air miles (actually, not that many.  Only 1.620 miles!!) for our dinner.
Challenges:
We don't want to be totally restricted to staying in The Zone on our last night.  Like a last night Island Fling, we shall throw caution to the wind and indulge ourselves!!
We also hunted in the supermarket for Fijian lollies – NONE!  In the land of sugar, you'd think they would be plentiful!  Nay, so, we had to buy Thai-made lollies!!  Bugger!
Highs:
The meal at Tu's Place, with an old friend!
Sunshine all day!
New Shoes.  Mike's are Fijian-made and use recycled tyres for the soles!!  (They make shoes, but not lollies???!)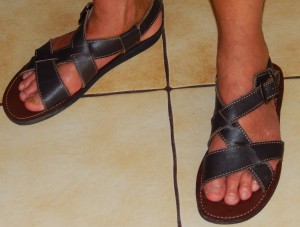 GD Star Rating
loading...
GD Star Rating
loading...
Tags: eat local, eat local challenge