Home » Uncategorized
Autumn is beautiful and damn being a locavore is hard! By Natacha Lee
By Natacha Lee, Gisborne 
Kiwis eating food grown and produced within a 200 km radius for 30 days of April in the Happyzine Eat Local Challenge.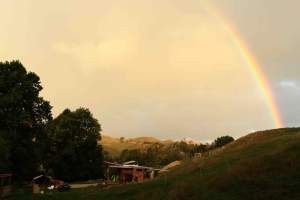 The evenings and mornings have been getting cooler, the change of season is making itself felt everywhere: rusty coloured trees, wetter days, dinners after sunset, overall slower pace…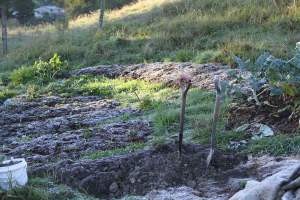 This morning we had our first frost. I expected us to be relatively protected from frosts, well we are not.The whole garden was covered in a thin layer of white icing.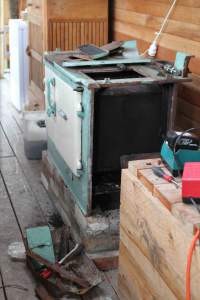 Josh has started putting our wetback in, so the kitchen had to move. Seen from the outside it's mayhem and the reality is pretty close to it too! No shelves, jars of preserves and buckets of food everywhere… But we still manage to cook our meals.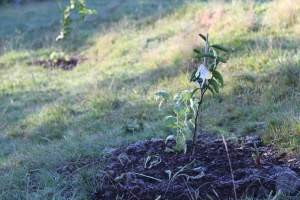 The garden is in upheaval too, paradoxically looking rather tidy and empty. I have put in some winter crops, hoping my timing will be better than in previous years and that we will keep getting most of our food from it. I have also started planting a few fruit trees (and ordered a few more). At the moment they are looking rather lonely but my long term goal is to create a food forest, so they are widely spaced on purpose. I have planted some ground covers around the trees, with the idea that as they grow taller and expand their foliage, I will expand the ground area that will be planted out in various crops to form a tree guild.
Autumn is also one of my favorite seasons. The land is plentiful and it is a time of harvest. We have been busy picking apples, walnuts, tomatoes, blackberries, pumpkins, kumara, feijoa… and preserving! It is a busy time where we prepare for the leaner months to come, although in saying that we always seem to have plenty of fruit in Gisborne and we can grow crops all year round. But still… it is a nice feeling when you have rows of jars on hand ready to be popped open. One of my proudest harvests has been the tomatoes. For the first time I have actually had enough that I got to bottle some.
I always look forward to the feijoa season, and this year we found a couple of feijoa hedges that have provided us with so much fruit I can actually have a go at making feijoa wine this year.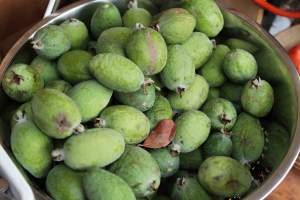 I have also made a very nice feijoa chutney, made with very local feijoas and vinegar but not local at all raisins and dates (plus exotic spices) which unfortunately amount to more than 5% of the total product. Damn, being a locavore is hard!
GD Star Rating
loading...
GD Star Rating
loading...