Home » Eat Local challenge
When the rosy glow of local eating wears off, Hayley discovers what's left
Hayley and her partner Steve are Kiwis eating food grown and produced within a 200 km radius for 30 days of April in the Happyzine Eat Local Challenge.
April 19th- The Eat Local Challenge, by Hayley Gale
More than two weeks into the Eat Local Challenge and the novelty has definitely worn off – and not just for me. My teenage son Tweeted a couple of day's ago-"Life without cheese sucks!".
We have purchased small amounts of delicious local cheese but due to the price the quantities have been tiny compared to the large blocks of cheddar we used to buy and have clearly not been enough to satisfy a seventeen-year-old's appetite!
Attempting to eat a satisfying diet from purely local food is definitely a challenge. To be honest our meals are becoming a little monotonous, especially breakfasts and lunches, although we have endeavoured to be more creative with our main evening meals. The best meals so far have been local mussels cooked in white wine, and beef and beer casserole.
Looking through my food diary I see that bread and avocados or egg on toast have featured almost daily for lunch, with salad for added variety. Every day I've  eaten fruit for breakfast – always apples and blueberries and now with feijoas topped with a few walnuts.All good healthy food but a change would be nice. I really miss my muesli!
 Added to that, I'm thinking it's about time I moved my bed into the kitchen as I seem to be spending hours and hours preserving and preparing food. Last night I was up until
midnight
cracking walnuts, half of which turned out to be rotten. By the time I'd finished the job I probably had about $10-worth of walnuts, which, taking into account the gathering, drying and shelling, had taken about four hours of work.
Steve also spends hours and hours working in the garden. While it's wonderful to produce our own organic food it is enormously time consuming and not in the least bit romantic. Now I know why lifestyle blocks are sometimes called "Life Sentence blocks". It's a never ending stream of work.
Having said all that, I am still so full of gratitude to live where we do, and to know that should we ever become isolated following a disaster or extreme weather event, our community could be quite self reliant.
In common with many other participants in the Challenge, we really appreciate our local market where we can buy a wider variety of vegies than we can grow ourselves, especially in the knowledge that it's all produced within the magical 200 kilometre radius.
So far, we have not  succumbed to the temptation to eat anything non local, beyond what is permitted (ie one grain and the five percent non-local allowance) but the challenge is definitely becoming more difficult as the month rolls on.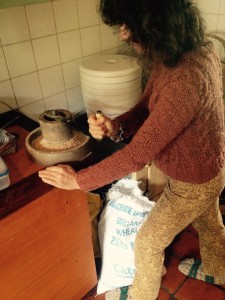 GD Star Rating
loading...
GD Star Rating
loading...