Home » Eat Local challenge
The story behind the Eat Local Challenge
Submitted by Charlotte on April 23, 2015 – 12:25 pm
Happyzine.co.nz founder Charlotte Squire discusses the New Zealand Local Food Challenge she's running, including the inspiration behind the idea and people's response to the local food issue in her own community.
The idea for an Eat Local Challenge came to me one restless night when I was nine months pregnant and sleep was coming and going like a beautiful, elusive scarf in the wind.
To eat local – I pondered earnestly, as you do at four in the morning – meant more than a meal. It meant you were more likely to know the faces of the people who had grown the food. It meant you were eating in sync with the same climate you existed in. It was more likely to be fresh. If you bought it, your money remained in your neighbourhood.  If it was given to you, it was part of the fabric of a friendship – which is the basis of strong community.  Or it could come from your very own garden, making it a relatively cheap, nourishing meal.
I knew eating local would cut out miles of fossil fueled travel, and tonnes of carbon emissions.  Indeed the founder of the carbon offsetting charitable trust Ekos Dr Sean Weaver said based on the latest World Resources Institute figures the average New Zealander generates 11.97 tonnes of carbon emissions per year.  "It's 26 tonnes for Australia because they use lots more coal for electricity generation than we do. For Fiji it is 1.73 tonnes," he said, pointing to a carbon map on the Ekos site.
However it wasn't all rosy – it would also mean some trade would stop.  Shops stocking food grown beyond the 200 km radius would loose some trade (though in this case, hardly any!).  And then there was the fact that export and trade contributes heavily to our economy here in New Zealand.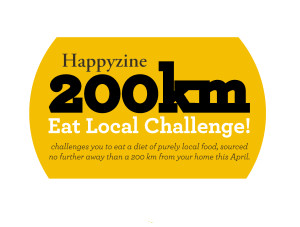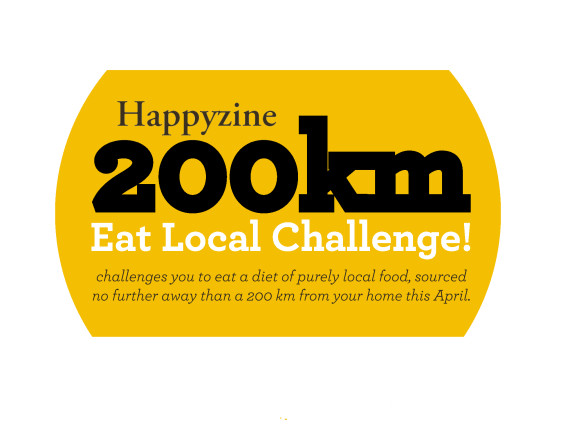 But I was relaunching my solutions focused news site Happyzine and I wanted to celebrate the stories, and the connections behind the food we eat.
I started at home: – Golden Bay, Tasman, New Zealand. A small community of around 4000 people, nestled in between two national parks, one whopping mountain and the sea.  I put the word out over the Takaka Notice Board facebook page:
"If the Takaka Hill was cut off and you had to live off a local food supply for a month, what would you eat and drink in a typical day? As in what would you eat for breakfast, lunch and dinner? And where would you get it from?".
Forty plus answers arrived within a few days.  This proved a hot topic with Golden Bay residents.  In short – they felt pretty confident about their ability to enjoy a local diet for one month.
Writer Jane Bellerby said she rarely needs to buy fruit and vegetables "apart from maybe bananas and kumara three or four times a year as a treat and tomatoes when we get impatient for the new seasons!"
She said she and her husband grow their own meat and produce their own eggs. She was also aware of eels and fish in the river and the neighbours sheep, "not to steal! But if the freezer wasn't working we could organise a meat for other produce swap."
Rice, flour, vinegar and spices were stocked up enough to last at least three months she said. Home made chutneys, dried fruits, frozen fruit and vegetables, stored hazelnuts, honey from hives, plenty of wild foods such as water cress, chickweed, a good supply of fresh and dry herbs were also in supply.
She said she'd most miss her gluten free bread, "I guess the corn in the freezer would become our main grain/carbohydrate once the rye flour bin was empty."
This lead her to consider what she actually buys at the supermarket: "chocolate, wine, cheese, butter, crackers, soap powder, chips, baked beans, yohurt mix, cocoa, baking powder, moisturisers, dishwashing detergent, coconut and olive oil."
Jane and her husband have been tending their land for "30 odd" years.
Many people said they would live out of their chock full chest freezers and trade with their neighbours.
Musician Amira Mudfaery Nadira said she would grow buckwheat, "as it is a complete protein."
"We eat whole Buckwheat sprouted, soaked, and cooked. As breakfast with an alternative milk, cooked as a porridge with stewed apples, on salads and such, and ground as pancakes and in baking."
Well aware that grains don't grow so well here in this lush environment, flanked by rainforest the Kahurangi National Park, I asked organic gardening consultant Sol Morgan if buckwheat could grow locally.
In fact, he had a crop growing that he was using as a green crop, and because "it's well known that buckwheat's one of
the best plants for encouraging insects."  He said without machinery, the challenge would be to release the buckwheat flower from the case.  For Sol's crop, the next steps were to turn the crop, mulch and compost it, then plant garlic on it.
Armed with a strong sense of optimism I put the word out online to see if Kiwis would like to take up a 30 day challenge to eat food grown and produced within a 200 km radius.  Auckland organic vegetable box scheme business Ooooby helped me spread the word.
Ten teams and individuals took up the the Eat Local Challenge.  As I write this they have one more week to go.  They are an entertaining bunch.  They are living all over New Zealand and they're discovering the highs, lows and sheer monotony of eating local within their communities, within a global economy.  If you'd like to check out their blogs and cheer them on, head to Happyzine.
GD Star Rating
loading...
GD Star Rating
loading...
Tags: eat local challenge