Home » Eat Local challenge
Are we there yet? End of the local food challenge
By Jizzy Green, Katikati, Bay of Plenty
Kiwis eating food grown and produced within a 200 km radius for 30 days of April in the Happyzine Eat Local Challenge.
Day 27
I have felt like the kid in the back seat on a long journey.  A month to trial a different way of eating.  Only what grows within a 200km radius.  It's been tough.  Hmmn, and just as we near the end of our Prohibition Lifestyle (Eat Local 200km Challenge), I discover all these great options.  We could live like this.  Maybe.  Maybe not!
Smoothie: usual, fruit from our backyard: apple, feijoa, guava and small mandarins.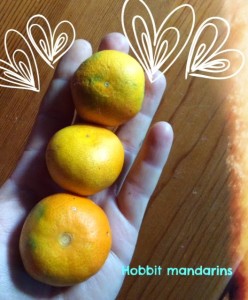 I am home, A BIG DEVELOPMENT in my lifestyle – I have started to work a job-share with a colleague.  We work a week-about, alternating every week.  Bliss!  Now I have more time to make, create and bake!  I have always been a working mother, so this is a fun adventure starting this week – more time to do the things I tend to cram into the end of a working day, or on 1 day of the weekend!
Snacking: – the usual, carrot sticks, fruit, and I have just learned how to make rice flour cookies – simply delicious!!  I substituted/fudged an old Hare Krishna cookie recipe I have. Okay, I used almonds, which are not local, but I figured out, that the walnuts I bought from the market (local) are still drying, and if they were ready, I would have used them, so I just substituted with almonds!)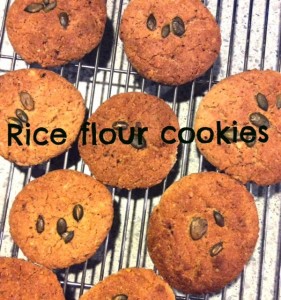 Rice Flour Cookies:
1/2 cup soft butter
1 cup rice flour
1/3 cup sugar
3 TBspn almonds, ground
1 tsp vanilla essence
1 tsp baking powder (not necessary but I thought the rice flour may be heavy)
Preheat oven to 175degC (350 F).  combine all of the above, when mixed, roll into 12 balls and flatten in the palm of the hand.  Place on cookie sheet and bake 10 -12 minutes till golden.
(I found I needed to add 1 TBspn hot water to bind it all).
We ate them all too quickly.  Will have to make a batch a day to keep up with demand!!
Rice crackers, avo and tomato.  Humble meal, not really enough to fill a teeny-tiny person, but hey, we are lucky!  Many people across the Globe don't get 3 meals a day!!
Mike made a stir-fry with onion, garlic, butternut, corn and zucchini strips.  I made a stir-fry sauce with honey and home-made sweet Thai chilli sauce.  We wrapped up parcels of stir-fry and guacamole (locally-grown avo) in rice wraps.  Heavenly!!
Day 28
Am loving being at home!!  So much to do!
We started our day with our regular smoothie: apple, feijoa, guava and figs.  Not as nice as usual – I think the figs spoil it!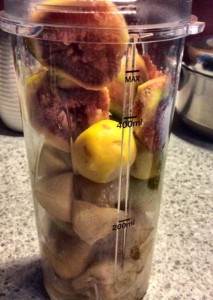 Mike has complained that he needs carbohydrates to keep him going in the morning.  He read somewhere that men need more carbs.  So I made him a porridge from rice flakes which he bought from our local Indian supermarket,
Spice Traders
.  They have an incredible range of stock!!  I wasn't sure of how it would turn out, but cooked with water, milk, cinnamon, pinch salt, sugar and butter – it was like pudding!!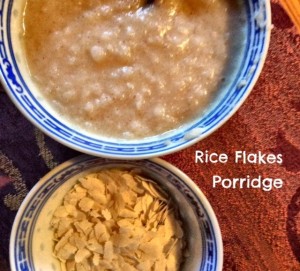 This is one meal that I don't seem to pay much attention to.  Too busy in the kitchen or garden!  I spent the day inside when it rained, and back out when the sun came out, pruning our over-zealous feijoa trees (I managed 2 of 9).  There is a mountain of fall out – perhaps I was a little severe!
Lunch was a hurried rice cracker and avo feast.  And last night's left-overs on the side.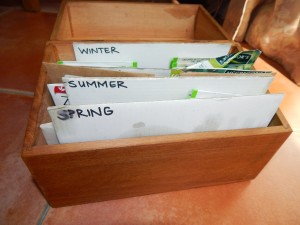 I made a Brown Rice and Celery Soup, and baked some rice flour cheese fingers to substitute for that need to have toast/bread with soup.  It was a veritable feast for kings!  Well, maybe not for kings, but for us, anyway!  The
Rice flour cheese fingers
are really simple to make:
1 cup flour
100g butter, cold and cubed
2 cups grated cheese (I used Mount Eliza cheese from our local market)
pinch or two of cayenne pepper
Mix flour, pepper and butter in blender, pulsing till mixed, add cheese and pulse till mixed. Pour out onto floured bench and press flat with hands till it is about 1cm thick.  Cut fingers and place on baking paper cookie sheet and bake at 180degC for 10-20 minutes until golden.  Allow to cool on rack.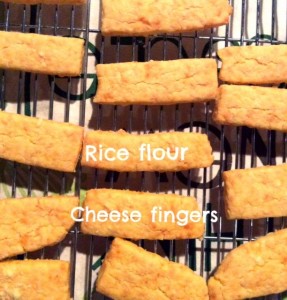 Oh, what to make with guavas… jelly?  Sauce?  Jam?  Last night I took a bag of guavas and excess feijoas and a large marrow to the local Backpackers.  Let them eat local!!  I'm over this now!  No, only kidding, I seem to just be getting into it!!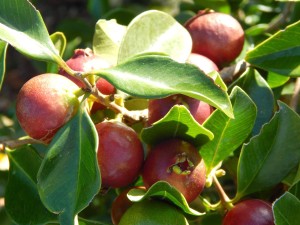 GD Star Rating
loading...
GD Star Rating
loading...
Tags: eat local challenge