Home » Eat Local challenge
Local Food Challenge- the end is in sight!
Hayley and her partner Steve are Kiwis eating food grown and produced within a 200 km radius for 30 days of April in the Happyzine Eat Local Challenge.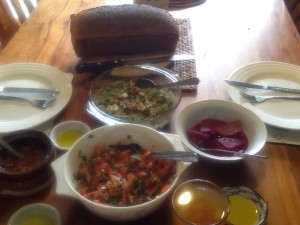 by Hayley Gale
My reason for choosing to take part in the Local Food Challenge had nothing to do with my skill-or lack of-of being able to create delicious,  home-cooked meals from garden produce. I'm not a great cook at the best of times, so having to produce edible meals from purely local food was always going to be difficult.
It was to try to make a point that we, as a society,  take the ready availability of food sourced from all over the world completely for granted. We rarely consider the huge environmental cost of transporting food around the planet, including the impact this has on global warming, arguably the biggest impending crisis of our time.
 Food Miles-the distance food is transported from the time of production until it reaches our table – is, of course, only one factor in the environmental impact of the entire food cycle. The actual production of food is said to create more greenhouse gas emissions(as much as 80 percent according to a Wikipedia article on Food Miles).
Other factors include use of fertiliser, packaging, food waste at all stages of the food chain and even the drive to the supermarket to buy the produce.
I shall not attempt to debate this highly complex issue, other than state the obvious fact that  in view of all the above, eating locally produced food is clearly a good idea! It's fresh, it's better for the planet, it's generally healthy(well, better than eating factory-produced, highly processed food full of sugar,palm oil and e-numbers) and it's good for local business.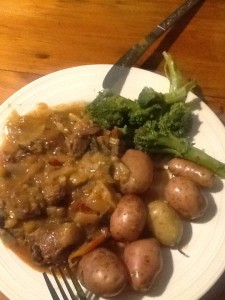 I enjoyed harvesting fresh produce from our garden, preserving food and shopping more at the local market than the supermarket.  As a result of the Eat Local Challenge, our family is now keener than ever to grow even more vegetables and fruit for the future.
While we are not aiming to eat totally local for the rest of the year, a  target of, say 50 percent, should be achievable.
 There were certain foods we really missed, such as chocolate, cheddar cheese, oats, rice, bananas and even the humble lentil. I've already planned our first evening meal on
May 1st
, which will be dahl and rice, with sliced banana on the side, followed by yummy chocolate pudding with chocolate sauce.
The harvest month of April was an ideal time to take the challenge, when there was so much abundance, especially in Golden Bay. Our garden was overflowing with tomatoes, courgettes, capsicums, pumpkins, apples and feijoas. It would have been so much more difficult to eat locally in October or November. We were also relieved that one grain was permitted throughout the month. We chose wheat, and without that staple we would have failed.
Finally, every day of this month I was reminded of one line of a prayer my Mother taught me as a child:
"Give us this day our daily bread" from The Lord's Prayer.
Not only did we eat bread each day, we were extremely thankful for it. Eating simply, and always having enough to eat, made us feel full of gratitude for what we have.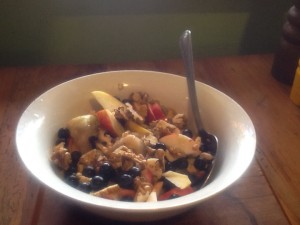 GD Star Rating
loading...
GD Star Rating
loading...
Tags: eat local challenge