Home » Eat Local challenge
Local home food: pasta
By Natacha Lee, Gisborne 
Kiwis eating food grown and produced within a 200 km radius for 30 days of April in the Happyzine Eat Local Challenge.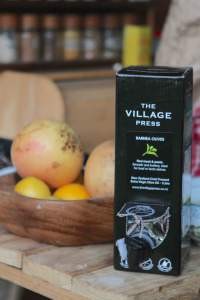 Yes, still eating local. Not always, I'm not perfect, but definitely working on it.
I got the pasta machine out the other day and made a batch of fresh tagliatelle to go with our homegrown tomato sauce and I forget what else was in there. I did use a locally pressed olive oil from The Village Press, one of the positives of the challenge to switch to locally produced goods. That's a good 18000km off my food miles karma.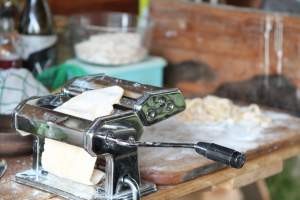 I used to think pasta took ages to make, way too long to bother. But they taste so much nicer. They might take longer to make than to open a packet of the dried stuff, but once you get the hang of it and get organised, it becomes a breeze.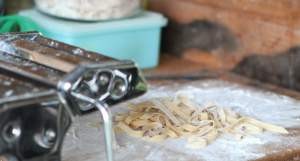 I make enough for the four of us. It takes me 10mn to mix the ingredients (100g flour to 1 egg, about triple that for four people), half an hour to roll it out, 5 mn to cook. Not that bad.
You can actually make the dough mix earlier in the day, or the night before, keep it in the fridge until you need it. 10mn off your evening cooking time. I roll out the pasta while I'm making the sauce, but you can also make it a day ahead. In that case, just remember to put lots of flour so it doesn't stick together. Even better, if you have space a means to dry it first. Even the pasta machine is a breeze to clean: no soapy water (you'd end up with rusty bits), just a wipe and then back in the box.
Which means that if you are really crunched for time, but have planned ahead, you could very easily whip up the most delicious fresh pasta in just the time it takes to boil water and cook it. Now that's cool.
GD Star Rating
loading...
GD Star Rating
loading...
Tags: eat local challenge