Home » Community
New centre opens doors for mokopuna with intellectual disabilities in Otahuhu
Submitted by Charlotte on May 13, 2015 – 3:44 pm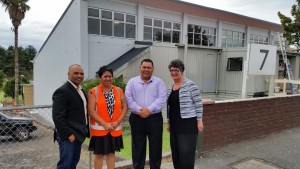 With a view to creating an inclusive environment for people of all walks of life to participate in healthy, social activities, Te Roopu Taurima O Manukau Trust are opening up a community lifestyle centre in Otahuhu, Auckland.
Kaupapa Maori organisation Te Roopu Taurima O Manukau Trust works nationwide to support people with intellectual disabilities of all ethnicities to lead healthy and fulfilling lives, with a focus on offering their clients, known as mokopuna, the opportunities to have meaningful interactions with their communities.
Te Rito Community Lifestyle Centre will connect communities, giving mokopuna the chance to meet new people in fun, healthy, social activities, while offering Otahuhu residents great recreational facilities at very affordable rates. This adds to the work that Te Roopu Taurima already does with mokopuna, helping them to volunteer or work in the community, learn new skills, and experience new things.
Te Rito is Otahuhu's newest community resource, and sees a historic Otahuhu building brought back to life. Opening on Thursday, May 14th, Te Rito will provide a central resource for locals who are interested in improving their health and fitness, learning a new skill or connecting with others in the neighbourhood.
"We want to give mokopuna opportunities to get involved in the community," says Tania
Thomas, CEO of Te Roopu Taurima. "The centre will be home to a wide range of activities and our aim is to create an environment where people feel comfortable and secure taking part. It is about something much bigger than Te Roopu Taurima; Te Rito is a place for the Otahuhu community."
"The centre will offer an environment for different groups to meet and interact," says Mangere-Otahuhu Local Board Council Member Walter Togiamua. "Such facilities are limited in our area, so it's great to see Te Roopu Taurima being so proactive in creating a space that encourages and facilitates interactions between mokopuna and the community.
We're looking forward to the opportunities this will offer for locals to get involved."
Te Rito Community Lifestyle Centre will offer the Otahuhu community access to facilities at very reasonable rates. It will encourage health, fitness, personal growth and skills development, while also generating income for Te Roopu Taurima O Manukau Trust to help fund their vital services.
The centre will be open to the public on 14 May, following a 10am powhiri and welcoming celebration that is open to all. Te Rito is having a free family open day from 10am – 2pm on Saturday 16 May and the whole community is invited to come along, join the celebrations and get a first look at what's on offer!
To find out more about Te Rito's services, to see the programme, book the Community Lifestyle Centre or to help out, contact Mereana Hona, on 09 259 2853 or terito@terooputaurima.org.nz, or visit  ww.facebook.com/teritocommunitylifestylecentre
GD Star Rating
loading...
GD Star Rating
loading...