Home » Business
Kiwi celebrities support sustainability campaign with selfies
Submitted by Charlotte on June 26, 2015 – 6:00 am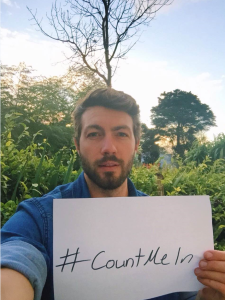 Arthur Green is the latest star to show his support for Conscious Consumers #CountMeIn crowdfunding campaign by telling the world through social media why he wants to be counted as a conscious consumer.
The Bachelor NZ joins the likes of the Mayor of Wellington, Green MP Mojo Mathers and Young NZer of the Year Guy Ryan, in the movement which aims to get businesses to adopt more sustainable practices.
The 6-week crowdfunding campaign has so far raised $30,000 and encourages consumers to make a donation online and spread the word by nominating three friends to post a selfie, explaining why they want to be counted as a conscious consumer.
Arthur says: "I jumped at the chance of getting involved with the #CountMeIn campaign. Buying local and organic produce has health benefits for not only me but also the community and environment. You can also choose from great rewards when you make a pledge."
Supporting partners Fairtrade Australia/New Zealand, BioGro Organics New Zealand and Enviro-mark Solutions matched the first $15,000 raised.
The money will fund a world-first technology called the 'Good Spend Counter', which will allow you to register your EFTPOS and/or credit card through a secure online platform. The technology then registers every time you use these cards in Conscious Consumer accredited businesses, and shows these businesses that their efforts to do good are being rewarded.
GD Star Rating
loading...
GD Star Rating
loading...
Tags: conscious consumers