Home » Business
McDonald's cracking on with cage free eggs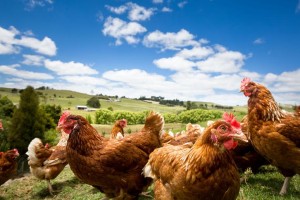 McDonald's New Zealand today announces a commitment to move towards cage free eggs in all its 164 restaurants by the end of next year.
McDonald's NZ managing director, Patrick Wilson, says today's announcement to transition to 100 percent free range eggs is a significant one for the company.
"I'm proud to be the leader of an organisation making this announcement. This pride extends in particular to our franchisees – the 54 local business-men and women from around New Zealand who have made this decision with us," says Mr Wilson.
"I believe today's announcement signals our commitment to the ongoing evolution of this business. We realise there's always room to improve, and by moving away from eggs from caged hens we're doing what our customers have asked us to do. Questions about free range eggs have been one of the most popular queries sent to us through the Our Food, Your Questions website, which launched at the end of 2013."
Once McDonald's has fully transitioned, free range eggs purchased by the company will make up approximately nine percent of all free range eggs sold in New Zealand.
"We purchase a substantial amount of eggs a year – nearly 13 million – so in order to keep up with demand, our egg suppliers will be investing significantly in new farms and farming systems. This is why the rollout will happen over 18 months – it needs to be sustainable for our suppliers," says Mr Wilson.
Christchurch and Dunedin McDonald's restaurants have used only free range eggs since 2009. Free range eggs for these 18 restaurants are currently sourced from Otaika Valley Free Range Eggs near Whangarei, a family-run farm which is part of the Independent Egg Producers co-operative. Otaika Valley Free Range Eggs will increase their supply of free range eggs to McDonald's.
"We are excited about this change and it's great to have McDonald's support to expand our business," says William Sandle of Otaika Valley Free Range Eggs.
A second existing egg supplier, Zeagold Foods in Otago, is undergoing expansion in order to meet the free range requirements of McDonald's and other customers.
McDonald's New Zealand's free range egg supply will be independently audited, with farms adhering to the Animal Welfare (Layer Hens) Code of Welfare 2012.
GD Star Rating
loading...
GD Star Rating
loading...
Tags: free range