Home » Environment
New predator proof fence grows, protecting some of NZ's most endangered species
Submitted by Charlotte on July 17, 2015 – 6:00 am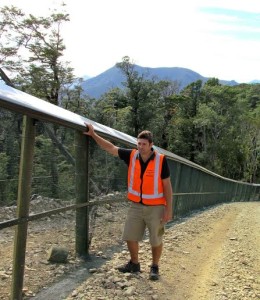 Nelson Media
A place where native plants and animals can thrive, without threat from introduced pests, is getting closer to reality right on Nelson's door step.
Post by post the contractors, Rotorua based Xcluder Pest Proof Fencing and local company Higgins Fencing, are making progress erecting the 14.5 kilometre predator proof fence at the Brook Waimarama Sanctuary.
Once the fence is erected, zero pests can be achieved, allowing the re-introduction of some of the country's most endangered species and enabling the indigenous fauna to recover within the 715ha sanctuary.
Sanctuary General Manager, Hudson Dodd says New Zealand's globally unique and beautiful bird and reptile species cannot be brought back to the mainland from the brink of extinction without a defined barrier on the landscape to keep the introduced mammals out. With a protected place to live and breed, however, he says the native birds will spread out from behind the fence, following the green fingers of native plantings back into people's gardens and their daily lives.
Dodd says a lot of research has gone in to the climbing, jumping and digging abilities of different pests to come up with the ideal predator proof fence design.
"The Sanctuary fence has a fine, stainless steel, welded mesh, too small for even baby mice to squeeze through," he says. "A mesh 'skirt' is dug into the ground to prevent pests digging under the fence and it's topped off with a curved Colorsteel, rolled hood to stop animals climbing over the top."
In the event that one small section of fence is damaged, the fence design allows for sections or materials to be replaced or repaired without having to completely strip large parts of the fence.
About 8000 posts will be used in the construction of the fence, which began last October and is expected to be complete by winter 2016. Once finished there will be an eradication operation to remove any pests remaining within the Sanctuary, followed by continued monitoring inside and trapping around the perimeter.
The Brook Waimarama Sanctuary is a community-based initiative administered by a charitable trust.
Sponsor a fence post: http://brooksanctuary.org/save-our-babies/sponsor-fence-post
GD Star Rating
loading...
GD Star Rating
loading...
Tags: Brook Sanctuary, nelson