Home » Arts, Featured
Award winning children's songwriter says authenticity is the key to his success
Submitted by Charlotte on August 5, 2015 – 3:43 pm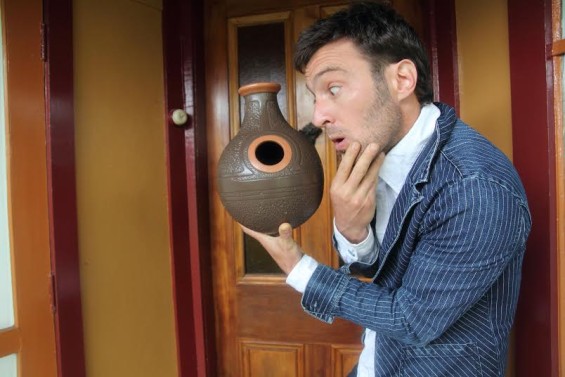 Hi Levity!  Tell us what you've won?
I won the Apra New Zealand Children's song of the year 2015 for my song 'There's one in the bush' co-written with Daniel Stryczek.  This is the third time I've won the award. First I won with 'Little Blue' in 2009, then 'Sometimes I Make Mistakes' in 2012 and I've been a finalist every year for the past four years.
We have one copy of Levity's kid's music CD HonkyTromblastic (see below) to giveaway to a member of Club Happyzine!  Just email us to go in the draw 🙂
2. Tell us the story of your musical career – how did you get started and how have you grown your career?
I've played music since I was four years old when I was in a 'pots and pans' band with my little sister Zoe.
I started writing and producing music for children and families when my daughter Malaika was born 9 years ago but worked with children and performing arts for 10 years previous to that touring shows around New Zealand schools with different troupes of performers. In the last few years my work has been often in inventing new musical instruments from upcycled materials and in sharing these ideas in shows and workshops with children, educators and parents.
3.  What's the secret to your success?
The secret to my success is in working to find an authentic expression of my own curiosity and sense of fun for life. This is an attitude I have brought into my writing and production of children's music which is a genre a bit like pop music in that it can be fairly ridden with tired cliches and shallow assumptions about what kids are interested in and how to communicate with them.
4.  What's your favourite Levity made instrument? What's it called and what's it made of?
My favourite instrument that I have made is currently the xylopump which is a combination of a church organ powered by 9 yoga-ball pumps and a xylophone. I play it with my feet and hands at the same time and it produces a very bright and happy feeling soundscape.
5. What's next?
I am currently looking for a publisher to collaborate with in making use of the $10, 000 grant I just won from NZ on air to produce a song and music video that can also be published as a children's book with a CD insert. I'll be working with Guy Capper who is a clay-mation genius (grown ups check out his series with Jermaine Clement on youtube called 'The Pen') and make a video also using various stills from the clay-mation as the illustrations for the book. I haven't decided on what song to use yet but it will be something suitably quirky and hopefully soon a household name.
I am also intending to offer my shows to more Nelson and Tasman schools and hopefully some follow up visits to workshop new musical instrument creation.
GD Star Rating
loading...
GD Star Rating
loading...
Tags: children's music