Home » Club Happyzine
Meet Karen and find out why a bump to her head lead to a new green business
Submitted by Charlotte on September 3, 2015 – 1:00 am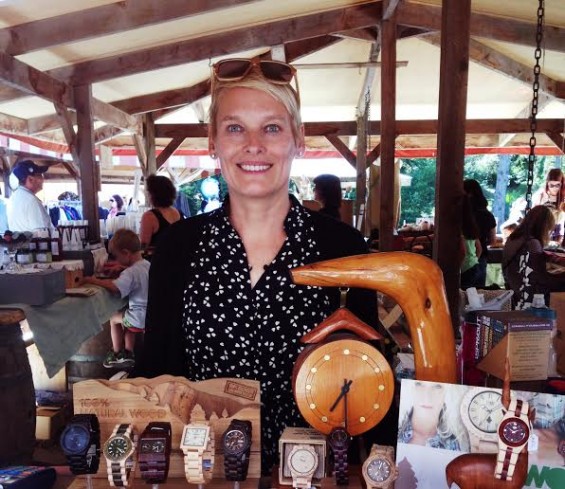 A major bump to the head made Karen Francis reassess what she was doing with her life. The corporate world she had been part of made Karen cringe with all its excess and wastefulness – when her serious head injury forced her to rest, she had time to reevaluate what she was doing in life. She decided her next venture needed to be one that helped the planet. Enter: Guardian Distribution (www.guardiandistribution.co.nz), a distribution company that stocks sustainable, eco friendly, cool fashion products.
So far she represents We-Wood watches, who plant a tree for every watch sold (www.we-wood.co.nz); Matt & Nat vegan bags, with linings made from recycled bottles (www.mattandnat.nz); and Proof eyewear, with sunglass and prescription frames made from cotton acetate, wood and recycled skateboard decks (www.iwantproof.co.nz). All look good while doing good for the planet – double bonus!
We asked Karen a few quick questions about what makes her tick:
Why is being sustainable so important to you?
My focus on the environment has always been with me. I grew up on a sheep station, bought up by parents who cared about the land – they were great gardeners and very self-sufficient. We had a cow to provide milk, stock to provide meat, an orchard to provide fruit, and a river across the road for fish. We spent hours roaming the farm, building tree huts, tending to pets and our little vegie gardens. My nana was also passionate about nature – she was a very active member of the Forest & Bird Society. Because she grew up during the Depression she placed great value on everything and never wasted a thing, so that respect for the environment was instilled into us from a very early age.
And then you became an eco-warrior at work?

Looking back before my accident I was certainly becoming more and more disheartened with people lacking any form of respect for our planet and each other. I would go on at my colleagues about placing rubbish that could be recycled into rubbish bins rather than recycling, even going as far as fishing plastic bottles and cans out of the rubbish tins and marching the owner and the product to the recycling bins! Public shaming! I'd tell them that we are just guardians of this world. We have become so focused on ourselves and consumerism. I was surrounded by so much financial waste, egos, shallow goals and office politics. I found it so sad.
How did Eco Guardian come about?
I was scanning the internet for ideas and came across a range of eco watches from New York. They looked really cool, something that most people would like as well as being good for the planet, plus the company gave a percentage of their profits to environmental causes. A collection of such products sounded like a cool concept for a business. It then hit me that I could start a business that sells products that people would love to buy, that are eco-friendly, sustainable and ethically made.
How do you choose which products to represent?
I spend hours online! I choose products that I like, then study the companies for a while to see how they are going. Are they really super passionate about what they are doing? Do they live and breathe their core values? Do they maintain a steady and strong course to making a difference and thinking about others? Are the reviews good, is customer service good, do they continue to release beautiful products rather than stagnating?
Do you have a personal motto?

I purchased a print which I've hung in my kitchen. It states: 'I will leave the world a better place, one small step at a time'. This statement encapsulates my philosophy.
What small steps would you encourage people to take, starting out on the sustainability journey?
If people could just pull their heads out of their own worlds to do a few basic things like not using single use plastic bags, composting, using eco-friendly soaps and washing powder and replacing their plastic toothbrush with a wooden one – these things would cumulatively starting making a big difference.
What do you like to do in your weekends?
Lie in bed and feel the sun on my face (when it's sunny). Have a very slow morning with my partner, go for a jog along Cheltenham Beach and up Northhead, Devonport, with my dog, have a beautiful breakfast with a home-made coffee, catch up with friends for dinner, have a nice long phone chat with my parents, give my beautiful 7-year-old niece a cuddle, sit on our loggia and listen to the birds nestle in for the evening.
What do you eat for breakfast?
Breakfast is my favourite meal. Every morning I have organic, raw coconut muesli with yoghurt and fruit. YUM!
What's something you're loving right now?
That daylight hours are getting longer and we are having a beautiful taste and tease of spring warmth!
Favourite quote?

"Today more than ever before, life must be characterised by a sense of Universal Responsibility, not only Nation to Nation and human to human, but also human to all other forms of life" – The Dalai Lama
Karen has given us a Proof multi-tool in walnut to give away to a Happyzine reader, worth $39. It includes a nail file, blade, scissors, cork screw, saw, bottle cap opener, can opener, Philips screwdriver and sewing eye – everything the active eco warrior needs in their arsenal! To enter you must be a member of Club Happyzine, then simply email charlotte@happyzine.co.nz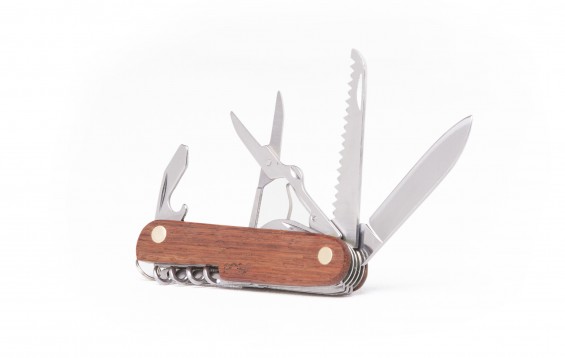 GD Star Rating
loading...
GD Star Rating
loading...
Tags: Eco-friendly