Home » Club Happyzine
Book review and giveaway: The Unicorn's Garden by Annabelle Edmond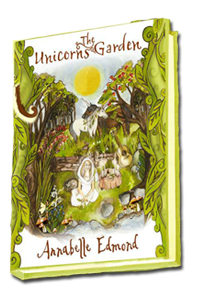 Review by Charlotte Squire
I've never been a unicorns kinda girl, and though I love to be inspired, I was a little skeptical when I first saw this book. It did, however, eventually sweep me away on an innocent, esoteric, playful, happy, and very sweet journey. I now keep it right beside my bed, so I can dip into it occasionally for random snippets of inspiration.
The Unicorn's Garden was the result of three months of free writing by scientist turned spiritual, planet lover: Annabelle Edmond.
It's the story of Brenna, who listens to and realises many sacred voices within herself who is "on the awakening path, a rainbow parth of beauty, as she navigates the depths and heights of her human existence."
"Developing her powers of manifestation, Brenna lets go of her fears. She tunes in with the Unicorns and allows her best dreams to come true."
If it sounds a little … airy fairy, well, it is. But for those of you seeking a wise and fresh perspective, it's also packed full of little nuggets of wisdom, reassurance, and wondrous optimism.
The plot in this book takes a back seat to Brenna's spiritual journey. There is a plot, but it's as if it was introduced to frame the lessons Brenna learns and to give the book some kind of linear journey. Having said that, she does take us on a path of calling in her dream block of land, AKA the Unicorns Garden.
What this book did for me – was help me reconnect with my heart. Brenna was often checking in with her heart, and I needed reminding to do this myself. Also, I reconnected with the child inside me, and in doing so found myself seeing my seven year old in a much clearer light and connecting with him in a very beautiful way.
If your spirituality is precious to you, if you're open minded, if you value innocence and a faithful, joyous atmosphere in a read, and if you can relax into the unique make up of this book, I think you'll find some gorgeous snippets of wisdom in here.
I'm looking forward to reading Annabelle's next book.
Find out more here: http://www.theunicornsgarden.co.nz/
Charlotte Squire
We have four copies of the Unicorn's Garden to giveaway to Club Happyzine members. Email charlotte@happyzine.co.nz if you'd like a signed copy.
GD Star Rating
loading...
GD Star Rating
loading...
Tags: inspiration, Spirituality