Home » Featured, Sports
Selwyn bikes his way to new life and is nominated for Courage in Sport award
Submitted by Charlotte on September 30, 2015 – 10:33 am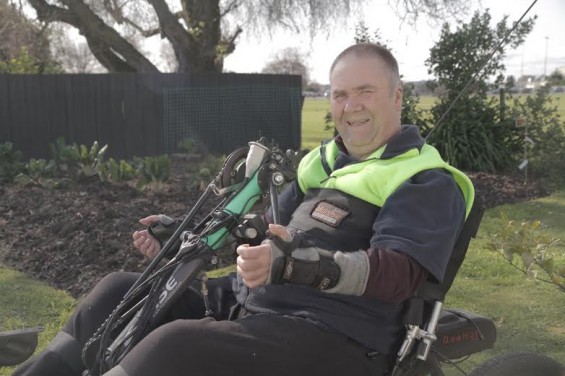 Attitude Trust
Selwyn Jensen (53) is a true Kiwi bloke who loves his sport – so much so that not even a car crash and resulting paralysis could keep him on the sidelines.
The Feilding cyclist is a finalist in the Courage in Sport category in the 2015 Attitude Awards. The national awards celebrate the excellence and achievements of Kiwis with a disability.
Selwyn was 40-years-old when he was in a car crash which left him with tetraplegia (paralysis of the limbs and torso). It was tough to go from being an active farmer and shearer to being dependent on four caregivers a day, but Selwyn renewed his courage through sport.
Only a year after the accident Selwyn was back playing rugby, this time with the Manawatu Wheelchair Rugby Association. Then a friend gifted him a handcycle.
"After my first ride I thought 'Man that's a good workout'," Selwyn says.
What started as a quick pedal around the block has turned into a list of achievements almost as long as his rides. Last November Selwyn completed a gruelling 40km of the Lake Taupo Cycle Challenge. He's also cycled in the Fielding Festival twice, the Tour-de-Beautiful, Rotorua's Bike the Lake, Laskey's Bush Cycle Tour, around Mt Taranaki and in Parafed Waikato's 28km Activ8 ride at Hampton Downs, where he won gold.
Selwyn is quick to point out that he owes a lot to his committed team of caregivers who position him into his bike and ride alongside him during training and events.
Given his limited movement, Selwyn operates the bike with a bit of Kiwi ingenuity. He applies the brakes using his elbows and with restricted head movement he's had a mirror attached to his helmet so he can see traffic behind him.
After seeing what sport has done for his own confidence, Selwyn spends his time off the bike getting other people with disabilities active. He is a board member of Parafed Manawatu and treasurer for the Manawatu Wheelchair Rugby Association, recently helping the club to access $1500 worth of sponsorship.
"I go along to schools with guys from the wheelchair rugby club and we demonstrate the game. We're trying to promote awareness of disability."
Selwyn also helps out with reading at Lytton Street Primary School and is a regular visitor at a local rest home.
Selwyn will find out if he has won at a black-tie gala on World Disability Day, December 3 at Auckland's Viaduct Events Centre.
There are eight categories in the 2015 Attitude Awards: Courage in Sport, Spirit of Attitude, Making a Difference, Artistic Achievement, Youth, Junior, the Attitude ACC Employer Award and Sport Performer of the Year. The overall winner of the Attitude ACC Supreme Award is selected from the category winners. The People's Choice winner and Hall of Fame inductee are also announced on the night.
Attitude Awards Trustee Dan Buckingham, a member of the elite national wheelchair rugby team the Wheel Blacks, says: "It's always an exciting time here at Attitude as we find out who the finalists are and count down to the big night. The Awards reflect what Attitude is all about – sharing stories that prove people with disabilities can overcome adversity and achieve greatness, whether that be big or small."
"We thank our fantastic family of sponsors who allow us to present the Attitude Awards year on year. Collectively we are changing people's view of what is achievable when someone lives with a disability."
Dan encourages everyone to visit AttitudeLive.com in early November to see short films of the finalists and to vote for the person most deserving of the 'People's Choice Award'.
The Courage in Sport Award is sponsored by Westpac. Sue Foley, Director Corporate Affairs says Westpac is incredibly proud to support the Attitude Awards and the Courage in Sport category.
"This category recognises truly inspirational sportsmen and women who absolutely epitomise our Kiwi values – a 'can do' attitude and the bravery to aim high," she says.
"The stories of this year's incredible finalists are a reminder to us all of what can be achieved when you have the courage to dream. We wish all the finalists the best of luck."
Other sponsors supporting the Awards include: ACC, Drake Medox, Ministry of Health, Barfoot & Thompson, IHC Foundation, Air New Zealand, Lion Foundation, Invacare and the Wayne Francis Charitable Trust.
Chief Executive of ACC Scott Pickering says ACC is proud to be principal sponsor of the awards for the eighth year, including sponsorship of the Attitude ACC Employer Award and the Attitude ACC Supreme Award.
"The Attitude Awards shine a light on New Zealand's unsung heroes. At ACC we're delighted to support the Awards and to acknowledge New Zealanders who live life to the fullest, achieve their goals and provide role models to our community."
For tickets to the Attitude Awards gala evening on December 3 contact Sue Wales-Earl at sue@attitudeawards.org or phone 09 378 1564.
For the latest on the Awards and the Attitude TV programme:
Like us on Facebook
https://www.facebook.com/attitudetv
Follow us on Twitter
https://twitter.com/attitude_tv
Watch previous Awards footage at www.AttitudeLive.com
GD Star Rating
loading...
GD Star Rating
loading...
Tags: attitude awards