Home » Blog
Wondrous Wednesday: What's rocking your world today?
Yes it's that time of the week here in the world of Happyzine.  Gratitude leads to more of the same, so it's worth investing time and focus in.  The whole point is makes us feel, well, lucky.  I challenge you to look around, right where you are, and find one thing you're rather grateful for, as in, if you didn't have it, life wouldn't be quite so peachy.
It doesn't have to be anything particularly glamorous – you know, it could be your shoes (can be a very exciting topic), your sleeping dog (because can't you always rely on him to smile at you?), your curtains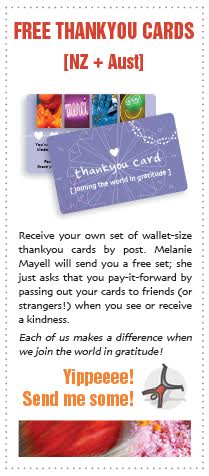 (imagine how chilly you'd be without these marvelous things), and if you're really pushed you could simply cross your eyes and notice that thing poking out from your face (not everyone has one you know).
Me? I'm going with my couch for this one as I've enjoyed many a relaxed, slumberous, 'everything is ka pai' moment on my big blue squishy friend. My couch isn't flash, in fact it has a wee rip up the top that I hide under my patchwork rug, but it's always there for me.
I would love to know what you come up with.
Charlotte
x
GD Star Rating
loading...
GD Star Rating
loading...
Tags: gratitude